Pixar's 'The Good Dinosaur' Gets A Cute "Teaser"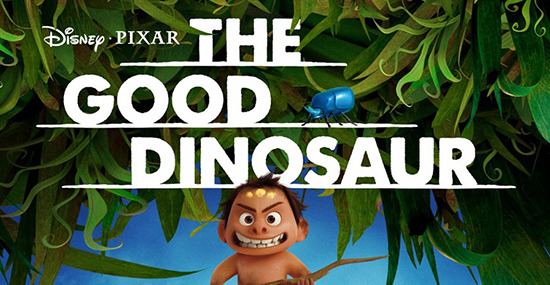 There's no new Pixar movie in 2014, but we'll get two from the studio in 2015. June brings Pete Docter's Inside Out (which you can read lots about here) and then, November 25, 2015, they'll release The Good Dinosaur.
The Good Dinosaur was originally scheduled to hit theaters in Summer 2014, but a change of directors and lack of confidence in the story pushed it back over a year. New director Peter Sohn doesn't want people to forget the film is coming, though, and released a cute, short little teaser on Twitter. Check it out below.
Here's the new Good Dinosaur teaser — well, it's an informal "teaser," but it does the job well:
Our director Peter Sohn can't wait for you to meet Arlo! #TheGoodDinosaur releases in theaters November 2015.https://t.co/i4J5X6tfhi

— Pixar (@Pixar) October 20, 2014
The cast of characters in the film is primarily filled out by a family of farming Apatosaurs, with John Lithgow as the father, Frances McDormand as the mother, Bill Hader and Neil Patrick Harris as brothers Forrest and Cliff, Judy Greer as Ivy, and Lucas Neff voicing the lead character Arlo.
That was revealed back at the D23 Expo in 2013 along with a bunch of footage. Here's our description of that:
Footage shown today featured a look at an asteroid field sixty-five million years ago. There's one asteroid coming towards earth, but it burns up and misses the planet completely. Dinosaurs look up at the asteroid flying by as they go about their business. The dinos come in all shapes and sizes; they're farmers, with each species designed to be their own farming equipment. Arlo's family lives in a very traditional farming community where not much changes
So Triceratops are bulldozers. Stegosaurus mow down acres of crops with their spiked tails. The Apatosaurs, with long necks, are built to do all the plowing on the farm. Cute little kid dinosaur characters run about between the adults. One clip showed rows and rows of crops, perfectly straight, fields of wheat. Dinosaurs are at top of the frame. They put their heads down and start plowing with their long necks. Some pick off branches, put them on their backs. Others cut crops with their tails.
There are lots of pests – prehistoric bugs that everyone hates but Arlo loves. The bugs turn out to be human cave men with a shell. Arlo figures this out when one cave man bites him. And so Arlo meets a boy, basically the first human any dino has ever seen. He's Spot, named for three spots on his forehead. Spot is all alone in the world, not afraid of anyone, not even dinosaurs. He's a tough kid, and he and Arlo set out on journey together.
Now is this still the same two years later? We don't know. Lithgow recently said the film was totally reimagined:
I recorded the entire role in Good Dinosaur. They have now dismantled it and completely reimagined it, and it is a fantastic new story. So I'm gonna record again on it within the next month. Don't worry. It's coming and it's gonna be better than I ever imagined.
The Good Dinosaur hits theaters November 25, 2015. We'll see much more next Summer when Pixar releases Inside Out.