Eddie Murphy Will Go Serious Again With 'Cook'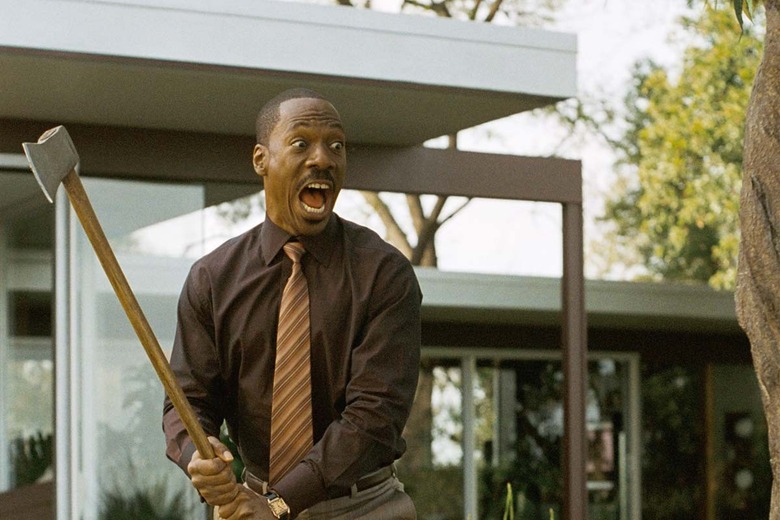 In 2007, Eddie Murphy earned an Oscar nomination for his dramatic turn in Dreamgirls. In the years since then, he's spent his time getting terrible reviews (Meet Dave, A Thousand Words), voicing a donkey (Shrek the Third, Shrek Forever After), or planning sequels to old hits (Beverly Hills Cop 4, Triplets). But now it looks like he's ready to get serious again.
Murphy is reportedly on board for Cook, directed by Bruce Beresford (Driving Miss Daisy). He's stepping in for Samuel L. Jackson, who was previously attached to star. Hit the jump for more on Eddie Murphy Cook role.
Jackson was initially slated to star but ultimately dropped out due to scheduling conflicts. However, producer Mark Canton seems more than happy with his new star. He told the publication: "Everyone now wants to do what Matt McConaughey did, so we're financing these movies when we think they're put together the right way. This will be Eddie Murphy like you've never seen him. Of that I can assure you."
It's obviously way too soon to say whether Cook will kick off Murphy's own McConnaissance-style resurgence. Murphy doesn't seem likely to give up goofy comedies anytime soon — to the contrary, his upcoming roles include Beverly Hills Cop 4 and the Twins follow-up Triplets — but if nothing else, Cook should make for an interesting change of pace. It'll be Murphy's first dramatic role since the aforementioned Dreamgirls.
And Murphy could probably use a career shake-up. 2011's Tower Heist did okay and the Shrek series made money through the end, but most of his other recent pictures have been stinkers. Meanwhile, Beresford surely wouldn't mind a hit either. His last few films (including, most recently, Peace Love & Misunderstanding) have failed to make much of an impression.