Colin Farrell Now In The Mix For 'Doctor Strange,' Tom Hardy Wanted For 'X-Men Apocalypse' [Updated]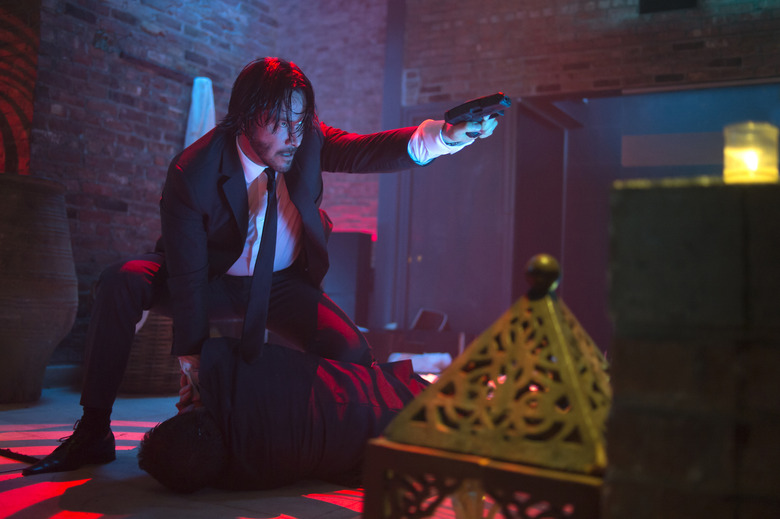 We're back here again. It's been a week full of rumors, as talk swirls about who will be in WB's next DC movie, Suicide Squad, and whether or not Jena Malone is in Batman v Superman. (As it turns out, she is.) On the Marvel side the talk has all been about Doctor Strange. While we once thought Joaquin Phoenix might sign to star in the picture, he moved on. Other names have been floated, with Keanu Reeves coming up more and more often. Another new one is in the mix: Colin Farrell. How could Farrell be Strange if he also has a full season of True Detective to shoot? Timing is everything.
Update: Like John Wick going after his enemies, Keanu Reeves has started to kill rumor talk about Doctor Strange, saying he hasn't been approached. We have his quotes after the original story below.
The Wrap reports that Marvel is "considering" Colin Farrell, and that Benedict Cumberbatch and (still) Joaquin Phoenix are still up for the role. (More on Phoenix in a moment.) Furthermore, the site claims that the fan push for Keanu Reeves to be cast as Strange also has Marvel looking in his direction.
Marvel, of course, had no comment.  
Jeff Sneider at The Wrap also tweets about Phoenix's rep claiming that deal is "dead, dead, dead," with a link referencing an official denial that Brett Ratner would make Hercules from back in 2010. Phoenix's rep goes on to say "A couple of weeks ago they mutually decided to part ways. It was over before the New York Film Festival."
As far as Farrell goes, it looks like Doctor Strange would get underway just as Farrell finishes True Detective early next year. So things might line up nicely. But Cumberbatch is reportedly still high on Marvel's wish list, and there's the Ryan Gosling talk to consider as well.  Jared Leto, Justin Theroux and Oscar Isaac, all of whom have been linked to the role, are pushed down as second-stringers at this point. Sorry, guys!
(Anyone who knows the drill with these casting lists and rumors at this point knows that being pushed down the list in one report doesn't mean someone is entirely out of the running.)
Finally, there's a point about Tom Hardy. The Wrap mentions Hardy as a one-time contender for Doctor Strange, but that the casting seems unlikely as he's sought for Suicide Squad. The report also says that Fox wants Hardy for the title role in X-Men: Apocalypse. (He would be Apocalypse, not the whole of the X-Men.) That's a pretty interesting notion; Hardy might make a great Apocalypse, but at this point it seems like an idea no one should be too attached to.
Update: Keanu Reeves told the Toronto Sun "I read about [the Doctor Strange rumor] . But I don't know the character Doctor Strange; I need to go brush up. So I don't know. It hasn't been brought to me." In paraphrased quotes from the paper Reeves says that a good script and casting offer could get him in the film, but at this point it doesn't seem likely.
(Of course, Reeves could be lying or downplaying things. We know Marvel is working overtime to cast Strange now, so it may not be long before we hear of the official choice. The way these denials tend to go, maybe we shouldn't be surprised if, two weeks from now, we hear about Reeves being cast.)
Scott Derrickson is directing Doctor Strange from a script most recently revised by Jon Spaihts. It is scheduled for release on July 8, 2016.
David Ayer is directing Suicide Squad, which has a release date of August 5, 2016.
And Bryan Singer is directing X-Men: Apocalypse, which is set for release on May 18, 2016.