Exclusive 'Why Don't You Play In Hell' Clip: The Blood Slide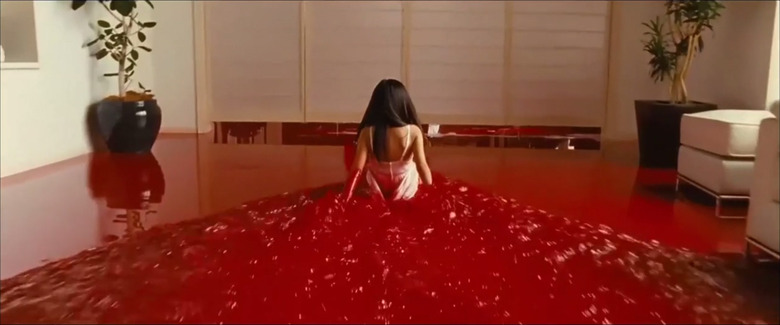 Why Don't You Play in Hell is the biggest, weirdest, most joyous ode to genre moviemaking you'll see this year. Sion Sono created this film as a blend of hyper-violent gangster pictures, coming of age stories, and romantic comedy. It follows a group of amateur filmmakers who call themselves the F*** Bombers as they encounter the most unusual yakuza clan battle you've ever seen. As the filmmaking gets get in the middle, they find themselves with the opportunity to film the gangsters in action — and on 35mm, no less.
The film opens today and to celebrate we've got an exclusive Why Don't You Play in Hell clip, featuring a scene that really needs no setup or explanation. There's also the red-band trailer, which will explain a bit more of the story, inasmuch as there's any way to explain it.
In addition to that clip, via
, here's the red-band trailer for the film — it is restricted for blood and weirdness.
Why Don't You Play in Hell opens today.
Master filmmaker Sono (Love Exposure; Cold Fish) describes his frenzied, gleeful new masterpiece as "an action film about the love of 35mm." Based on a screenplay he wrote nearly fifteen years ago, Why Don't You Play In Hell? is among Sono's very best work, as his trademark excess and outrageousness is infused with an affection for the previous century of Japanese cinema. This is Sion Sono with his talent and unique vision completely unleashed.
There's a war going on, but that won't stop the inexperienced but eager wannabe film crew The F*** Bombers from following their dreams of making the ultimate action epic. Ten years ago, yakuza mid-boss Ikegami led an assault against rival don Muto. Now, on the eve of his revenge, all Muto wants to do is complete his masterpiece, a feature film with his daughter in the starring role, before his wife is released from prison. And The F*** Bombers are standing by with the chance of a lifetime: to film a real, live yakuza battle to the death...on 35mm!