Watch: Baz Luhrmann's Glitzy Chanel No. 5 Ad Starring Gisele Bundchen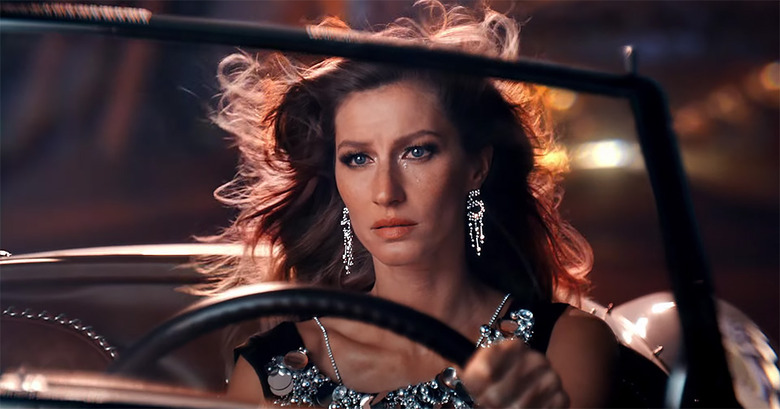 Baz Luhrmann's razzle-dazzle style isn't for everyone, and it doesn't work for every story. But it's just perfect for high-end perfume ads, which are all about glam and glitz.
This Chanel No. 5 spot stars Gisele Bündchen and Michiel Huisman (of Treme / Orphan Black / Game of Thrones fame) as star-crossed lovers who variously enjoy surfing (her) and Sam Smith-ified Grease covers (him). Hit the jump to see the sumptuous new Baz Luhrmann perfume ad.
The Chanel spot bears more than a small resemblance to Luhrmann's last feature. Attractive people falling in love near water? Anachronistic cover of a familiar pop song? A mad dash to the city in an expensive car? Check, check, and check. But it's 140 minutes shorter, which should count as an advantage for people who enjoyed looking at Luhrmann's film but not necessarily watching it.
As for the plot of Luhrmann's Chanel ad, I have no idea. At first it looks like Daario Naharis has decided with a very heavy heart to dump Gisele while she's out surfing. But then Gisele decides to ditch work and meet him at his favorite concert venue, and all is right with them again. It just seems like they could have saved themselves a lot of angst by arranging a time and place to meet beforehand.
But hey, it's a perfume ad. Luhrmann's goal here isn't to avoid an Honest Trailers takedown, it's to sell a mood through images of pretty people cavorting prettily to pretty music. On that front, mission accomplished.
The Chanel YouTube page has much more about the making of "The One That I Want," including interviews with the director and cast and even the backstory behind the movie. Apparently this video is actually a sequel of sorts — Gisele is essentially playing the ten-years-later version of Nicole Kidman's character from Lurhmann's 2004 Chanel No. 5 ad.