Scarlett Johansson Offered 'Ghost In The Shell'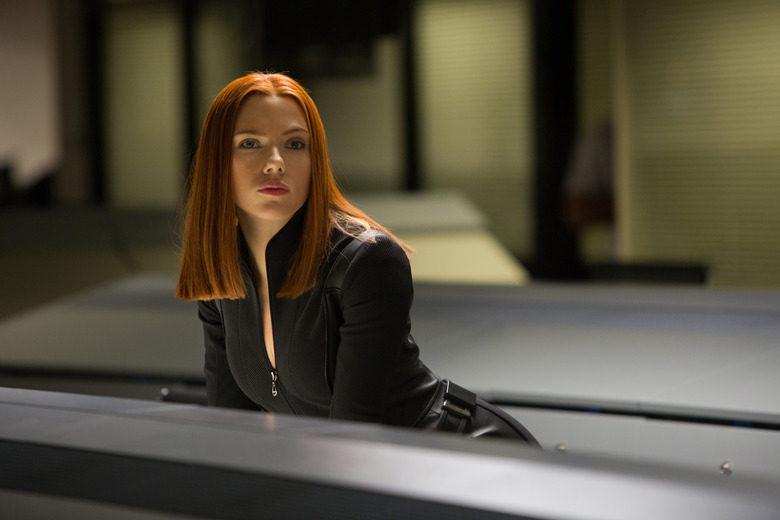 With Margot Robbie looking to get into the superhero game with Suicide Squad, Rupert Sanders' Ghost in the Shell is down a lead actress. So now another superheroine might take Robbie's place.
Scarlett Johansson has reportedly been offered the lead role in the 3D live-action, English-language manga adaptation. Hit the jump for more on the potential Scarlett Johansson Ghost in the Shell casting.Deadline reports Johansson has been offered $10 million to take the part of cyborg protagonist Motoko Kusanagi. Robbie was in early talks as of a few weeks ago, but has since fallen out of the running thanks to negotiations for David Ayer's DC Comics adaptation Suicide Squad.
The story is set in a futuristic society where technology has allowed humans to replace body parts with cybernetic gear. Some citizens including Motoko even have full-body prosthesis, with only a "cyberbrain" that retains her original soul. The downside of this technology is that it opens people up to the possibility of having their brains hijacked by hackers. Motoko is assigned to hunt down one such baddie called the Puppet Master, who implants false memories in his victims.
Bill Wheeler scripted Ghost in the Shell based on Masamune Shirow's manga, rather than Mamoru Oshii's 1995 film adaptation or any other video game or anime series. This new English-language live-action version has been in the works for years, but got fresh life when Sanders boarded as director earlier this year.
The sci-fi material should be a good fit for Johansson, as not-quite-human characters seem to be her specialty as of late. Her most recent roles include a sentient OS in Her, a man-eating alien in Under the Skin, and a superhuman in Lucy. (Though of course she can still play more regular people too, as in Captain America: The Winter Soldier, Chef, and Don Jon.) Next up for her are Avengers: Age of Ultron and The Jungle Book.