'Feast' Preview: Meet The Adorably Hungry Star Of Disney's Latest Short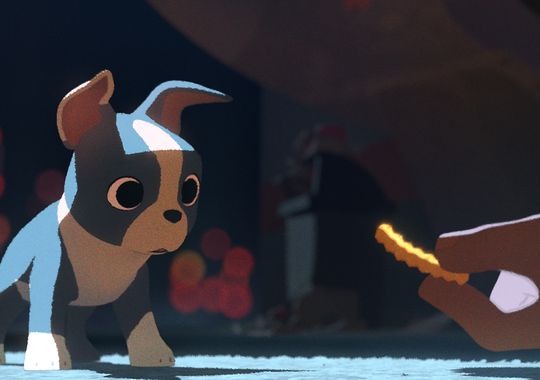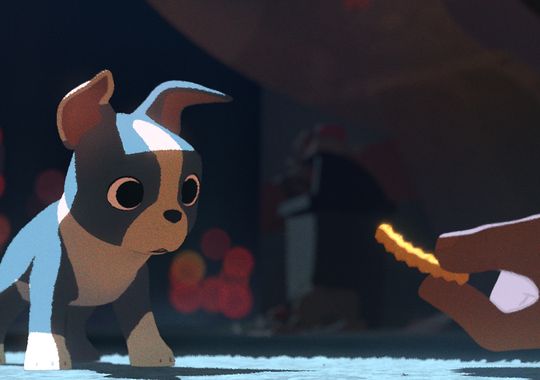 Baymax may have some competition for the title of "Most Adorable Animated Disney Character Coming to Theaters on November 7." You see, accompanying Big Hero 6 in theaters is the Disney Animation short Feast, starring a little Boston terrier with a big appetite. As you can see in the header image, he is really freaking cute.
We got a fun little peek at Winston in the first Feast images revealed weeks ago, but now the first Feast preview has arrived to show this hungry dog in action. Hit the jump to see the Feast trailer.
It's less than a minute long but includes a lot of footage, and since the full film is only 6 minutes long it represents a sizable chunk. Thankfully, it still doesn't give everything away. I look forward to finding out why Winston is running around town with a sprig of cilantro (or maybe it's parsley? I can never tell) in his mouth.
The Feast logline reads as follows:
Feast is the story of one man's love life as seen through the eyes of his best friend and dog, Winston, and revealed bite by bite through the meals they share.
As shown in the Feast preview, Winston's journey begins with a French fry dropped by a human named James. James adopts Winston, and the two become fast friends. Feast follows them over the next 12 years, as the characters mature and their relationship deepens. Among the biggest changes is a new woman in James' life, who — to Winston's initial dismay — inspires him to swap out delicious nachos for healthier veggies.
Feast was is the first directorial effort from Patrick Osborne, who served as head of animation for the Disney short Paperman. The similarities in style aren't hard to see. Osborne has also worked on the Disney features Tangled, Wreck-It Ralph, and Bolt.