George Romero's Son Crowdfunding 'Night Of The Living Dead' Prequel 'Origins'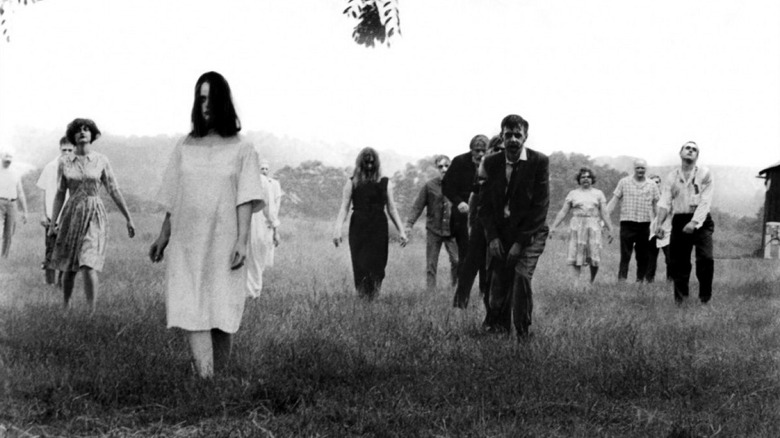 George A. Romero's iconic zombies will shuffle across this earth again. Today, Romero's son G. Cameron Romero announced an Indiegogo campaign to fund Origins — the prequel to his dad's 1968 horror classic Night of the Living Dead.
Hit the jump for all the details on the Night of the Living Dead prequel.
Romero is teaming with Bloody Disgusting for the Origins Indiegogo campaign, which kicked off this morning with a goal of $150,000 for pre-production costs. Additionally, Origins already has the support of several companies including Cold Steel, the Zombie Apocalypse Store, and Dogfish Head Brewery.
The Night of the Living Dead prequel's logline reads as follows:
Set in the turbulent late sixties, the film tells the story of a brilliant scientist – Dr. Alan Cartwright – who strikes a deal with the military that will give him all the resources he needs to finalize his work in exchange for what he later learns is a price all mankind will have to pay.
The older Romero will help produce. In a statement, the younger Romero explained what drove him to make the movie: "I feel carrying on my dad's legacy is something that I not only want to do, but it's something I HAVE to do because I, like all my dad's fans, was raised on his creation."
G. Cameron Romero (yes, the G stands for "George") has followed in his father's footsteps as a horror director. His feature films include Radical, Auteur, and Staunton Hill.
Romero's Indiegogo page offers a pretty good summary of what he considers distasteful (overacting, excessive gore) and what qualities he wants to achieve ("terrifying," "original," "respectful"). On a grander scale, Romero expresses his desire to "take back the zombie genre" and offer "the definitive answer to your questions about the creatures." He further promises to "re-define the genre," which seems, uh, pretty ambitious, to say the least.
As with all crowdfunding campaigns, there are prizes including posters, lunchboxes, signed severed limbs (presumably not real ones), a walk-on role as a zombie, and an executive producer credit. Click over to HelpTelltheOrigin.com or Indiegogo.com to get more information or contribute.
The original Night of the Living Dead is iconic for having introduced the modern concept of the zombie into popular culture. George A. Romero followed it up with five sequels, the last of which, Survival of the Dead, was released in 2009. The 1968 film has also been remade a number of times, most recently as a 3D animated pic.