Sequel Bits: 'That's What I'm Talking About,' 'The Terminator,' 'Fast & Furious 7'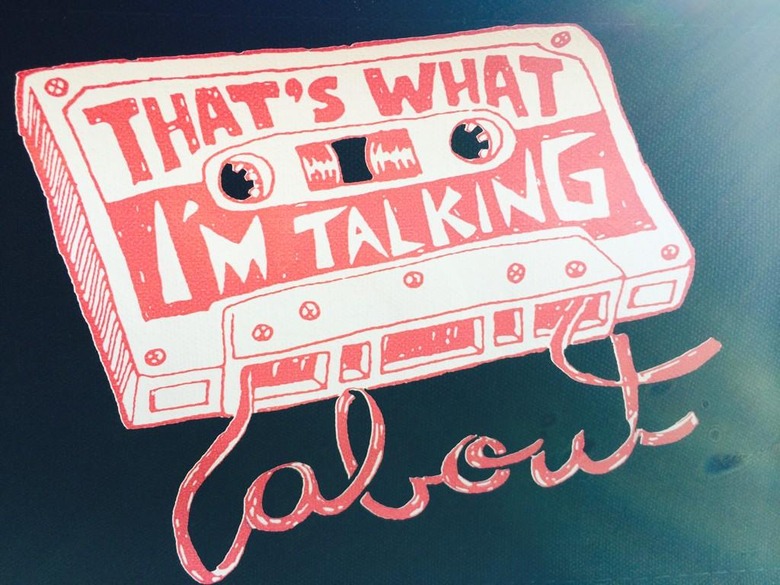 The art above is the production logo for That's What I'm Talking About, the new film from Richard Linklater. We're stretching the definition of "sequel bits" just a little here, but the movie has been called a "spiritual sequel" to Dazed and Confused. Linklater started production on the movie this week, and that image is in celebration of the ongoing production.
The Woman in Black – Angel of Death gets a new US release date,
James Wan talks about Fast & Furious 7,
Producers suggest there's a plan for a new Saw film in 2016,
A new Horrible Bosses 2 poster goes online,
As does a Night at the Museum: Secret of the Tomb poster,
And James Cameron talks Terminator.
The That's What I'm Talking About image comes from producer Megan Ellison, who announced the shoot via Twitter.
The film features a college freshman showing up to school and getting acquainted with the school's baseball team. Blake Jenner (Glee) and Wyatt Russell (22 Jump Street) star, and  Zoey Deutch, Will Brittain, and Glen Powell are in the cast.
***
The Lego Movie co-writer and co-director Chris Miller posted a note to Twitter about the announcement of release dates for the new Lego films. We'll let you wonder if he's joking about this Lego Movie 2 title, or if that could actually be the name of the film. Knowing these guys, it could go either way.
I am also super pumped for the NINJAGO movie and TH2 L2GO MOVI2 which were already announced and are going to be really special

— Christopher Miller (@chrizmillr) October 15, 2014
***
Yahoo has a new Horrible Bosses 2 poster. The November 26 release stars Jason Bateman, Charlie Day, Jason Sudeikis, Jennifer Aniston, Jamie Foxx, Kevin Spacey, Chris Pine and Christoph Waltz, most of whom are seen on this poster.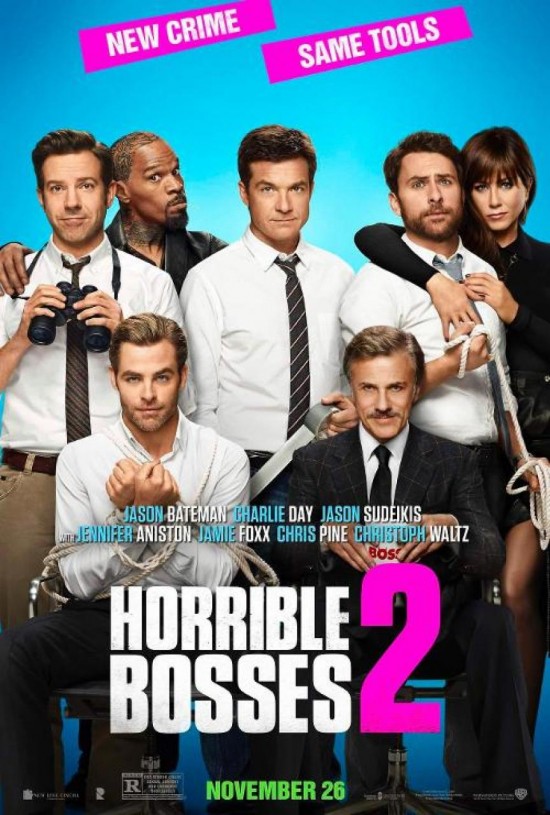 Fed up with answering to higher-ups, Nick, Dale and Kurt decide to become their own bosses by launching their own business in the sequel. But a slick investor soon pulls the rug out from under them. Outplayed and desperate, and with no legal recourse, the three would-be entrepreneurs hatch a misguided plan to kidnap the investor's adult son and ransom him to regain control of their company.
***
And here's the new Night at the Museum: Secret of the Tomb poster, which features the late Robin Williams.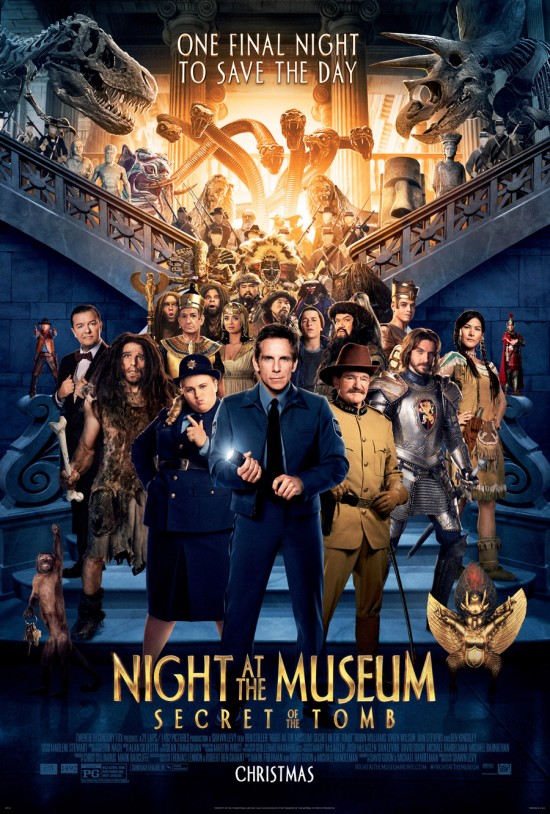 Fandango has that poster. The film also stars Ben Stiller, Owen Wilson, Ricky Gervais, Ben Kingsley and Rebel Wilson. Night at the Museum: Secret of the Tomb opens on December 19.
***
Release of The Woman in Black – Angel of Death has been pulled forward from January 30 2015 to January 2 2015. That makes it the first official release of the new year, as it is currently the only film set to open on that date. Jeremy Irvine and Helen McCrory star in the film directed by Tom Harper from a script by Jon Croker. The sequel takes place in the same house seen in the first film, but finds children evacuated from London during the Blitz in WWII taking refuge in the house.[Variety]
***
James Wan took part in a little press event this week to celebrate the ten-year anniversary of Saw. Along the way he ended up talking about Fast & Furious 7 to Collider. He calls it the hardest film he's ever had to make. While he doesn't mention the death of Paul Walker here, undoubtedly that played a big part in making the shoot particularly difficult.
It doesn't matter how big or small your film is, you still don't have enough money. You don't have enough time to shoot it. When you're making a bigger movie you have much bigger set pieces that require more time and more effort and more people. But Fast 7 is definitely the hardest movie I've had to do in my career. And it's not just me. Neil Moritz [the film's producer] has been doing this for a long time and is a very successful, seasoned producer and he said that to me too. That Fast 7 is the hardest movie he's ever had to make as well in his entire career. And it's very true. But I think the final product will surprise a lot of people. It's that hardest film I've ever had to make but it's also the one I'm proudest of. I'm really proud of this film.
Fast & Furious 7 opens on April 3, 2015. Saw will be back in theaters on October 31 of this year.
***
Speaking of Saw, at the same event producers told STYD that they're working towards making a new film in the series. Oren Koules said,
James [Wan] and Leigh [Whannell, co-creators]...when Saw came out they were so afraid of being 'the Saw guys' and they were trying to make their own mark. Now that they've made their own mark, they're very comfortable to come back. We're getting there. James and Leigh are absolutely going to put their mark on it.
It's one of the reasons we agreed to [put Saw back in theaters]. We kind of wanted to build it up. Our goal is to go to Comic-Con, not next summer but the summer after [2016] with our heads up saying, 'Here we go.' James and Leigh are comfortable with the success they've had. And it's time. James is in post on his movie. Leigh's on post on [Insidious Chapter 3]. Everyone has time and it's time.
So will Wan and Whannell do another film? Wan told STYD,
I've entertained the idea. But that's more of a fantasy, I think. It's a story Leigh and I really like and...who knows?
***
James Cameron turned up for a 30th anniversary screening of The Terminator last night in Hollywood, and talked about both the past and the future of the Terminator film series. He talked to Empire about being happy watching his friend Laeta Kalogridis script the new film and looking forward to seeing where it goes. 
I'm friendly with the filmmakers, the writer Laeta Kalogridis has worked with me on projects. I'm hoping it's great. I'd like them to get it right, and based on the script that I read there's a pretty good chance that it could. It looks like it could be fun. ... [The quality of the film] is not my problem! It's like being a grandparent, the kids come over and you can send them back! When I walked away from the franchise, I had to do it with the sense that I can invest in emotion. To me, it's all upside, because if it's good, it's good for Arnold (Schwarzenegger), my friend Laeta and if it's not good? It doesn't bother me personally.
In 2019, however, the rights to all things Terminator revert to Cameron, at least under the terms of the current deal. Does that mean he might think about making another one? While he muses on the concept, it doesn't seem likely.
I haven't really thought that far ahead yet. I've got plenty of time to think about it. It might be fun to completely re-invent the franchise. A lot has to do with what happens with it in the meantime, people may have Terminator fatigue.