Warwick Davis Will Appear In 'Star Wars Episode VII'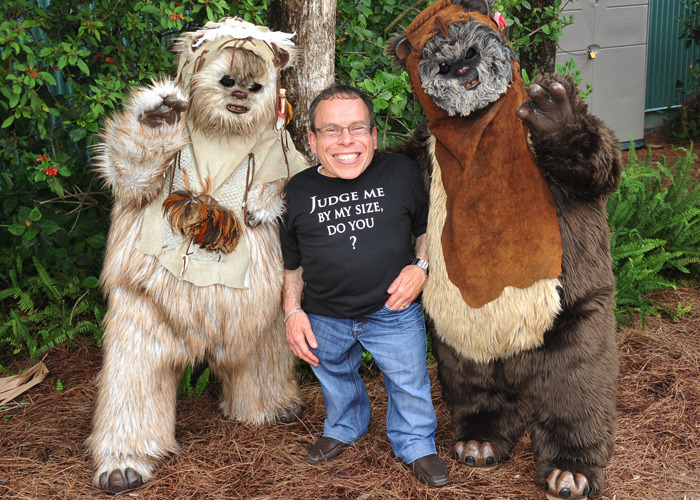 A new piece of Star Wars news hit today, straight from the official YouTube page. The channel posted a funny video featuring long-time Star Wars actor Warwick Davis discussing whether or not he will be appearing in Star Wars Episode VII. Spoiler alert: he will. Watch the video and more below.
Here's the Warwick Davis Star Wars 7 video via the Star Wars YouTube channel.
Davis is a Star Wars legend. In addition to the hosting duties mentioned above, he played the role of Wicket in Return of the Jedi and had dual roles, as Weazel and Wald, in Star Wars Episode I: The Phantom Menace.
As to who, or what, Davis might play in the film, it's almost impossible to say. I will say I think the timing of this video is a bit of a red herring. I'd heard a while back Davis was cast in the film but was unable to get anyone on the record. So while the video makes it look like he starts filming today – and that may very well be true – I don't think it is.
If he has been filming for a while, maybe it's a fairly significant part, as in Return of the Jedi. If he just started today, maybe it's more of a cameo like in The Phantom Menace. And either way, there's no way to tell if we'll see his face or not. Probably not though, unfortunately for Davis.
I will say, I love the way Lucasfilm made this reveal. A fun little video, uploaded to YouTube with some real, concrete information. I hope they do more of that now that filming is nearing completion. They certainly have had to deal with a lot of other leaks and stuff in the last few days so, hopefully, they can begin to redirect the conversation.
Star Wars Episode VII, starring Warwick Davis (among many other people), opens December 18, 2015.
Image Credit: Star Wars.com