'The Illusionist' TV Series In Development; 'Westworld' Near Series Order At HBO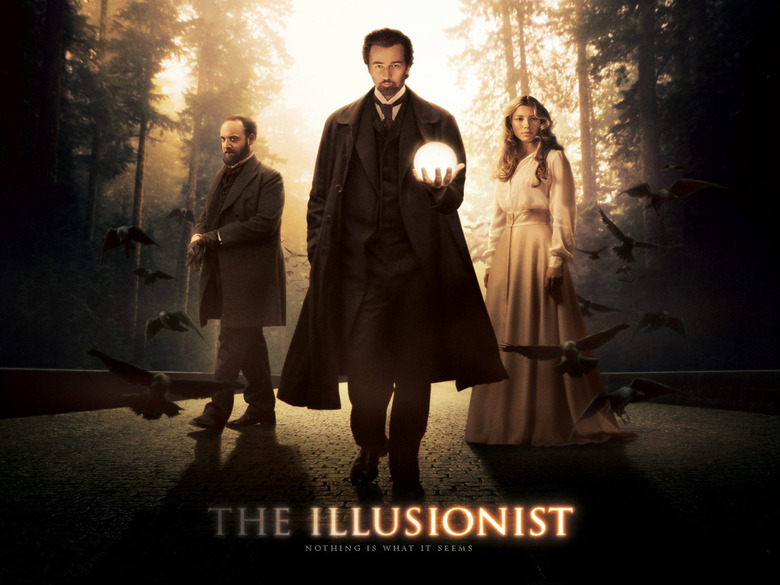 A day rarely goes by of late without news on a new film-to-TV development. The latest news is of an Illusionist TV series, based on the 2006 film from director Neil Burger and stars Ed Norton, Paul Giamatti and Jessica Biel. A couple things will be changed, as is so often the case with these film to television transfers, but the core idea is pretty great. Additionally, there's news on the Westworld show that HBO has been considering.
Deadline reports a few details on the new series. While the film, written and directed by Burger, was based on a short story ('Eisenheim The Illusionist' by Steven Millhauser) which was in turn loosely based on real events from late-1800s Austria, this show will move the setting to New York, and change some significant character dynamics.
Mark Hudis (True Blood) is writing, and this will retain the turn of the 20th century period, with the main character as "a renowned illusionist who returns home from a decade in prison to find his wife married to the ruthless crime boss who framed him. Posing as an underling in the crime boss' organization, the illusionist uses cunning magic to pull off elaborate heists, rising quickly through the organization in order to take down the boss from the inside and win back his one true love."
That's a pretty good basis for a show, actually, and with Hudis writing it could attract a solid cast. The show is backed by Yari Film Group, which produced and distributed the film. Electus and CBS TV Studios are also part of the package.
In addition, Deadline says the Westworld series that has been developing for HBO should get a series order, with the pickup "almost a foregone conclusion" after a presentation at today's Warner Bros. investment meeting. Richard Plepler of HBO and Time Warner CEO Jeff Bewkes both talked about the show, described as "a dark odyssey about the dawn of artificial consciousness and the future of sin," in language that suggested HBO will soon announce a formal pickup.
Bad Robot produces Westworld, and Jonathan Nolan, Lisa Joy, and Jerry Weintraub are all involved behind the scenes with Warner Bros TV. The cast includes Anthony Hopkins, Ed Harris, Evan Rachel Wood, James Marsden, Thandie Newton, Miranda Otto and Jeffrey Wright.