Could Bill Murray Cameo In Paul Feig's 'Ghostbusters' Reboot?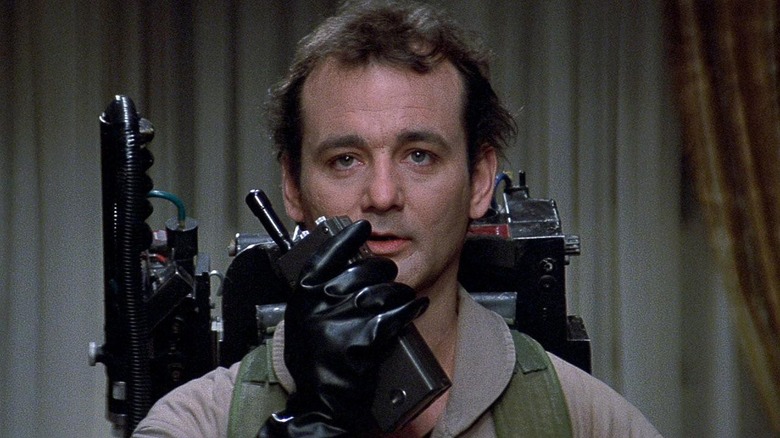 For a while now, the one constant about the third Ghostbusters has been Bill Murray's complete lack of interest. But now, as Paul Feig cues up his all-female reboot, it seems Murray is ever so slightly opening himself up to the possibility again. Hit the jump to see what he said, plus candid explanations of why he wasn't involved with other incarnations of the project.
So really, it's up to Murray. "The studio gets really crazy about it," he told Variety. "What they really want to do is resurrect a franchise." However, Murray doesn't seem all that interested in the money he could make ("I don't look it, but I'm doing okay"). Nor does he seem particularly excited to return to his past. "He said to me, 'I've done the character,'" Aykroyd recalled.
What would bring him back, he confided to Variety, is an idea that feels genuinely fresh. But impressing Murray is much easier said than done. "Those guys, Danny [Aykroyd] and Harold [Ramis], were at the top of their game," Murray said of the original Ghostbusters. "They were burning nitro at that moment. Unless you have a really clear vision, you're always trying to recreate that."
Murray has already looked at several treatments over the years, and none have passed muster. "I read one that Danny [Aykroyd] wrote that was crazy bizarre and too crazy to comprehend," he said. He was similarly unmoved by the one that turns Murray's Peter Venkman into a ghost: "It was kind of funny, but not well executed."
And while some stars might push for more screentime or higher billing, Feig and writer Katie Dippold should probably resist the temptation to give Murray too much. "His head was in a whole different place as an actor," said Reitman, remembering his efforts to get Murray on board. "He wanted to do smaller roles where he didn't have to take on the weight of the lead."
For what it's worth, Murray has voiced his support for the all-female Ghostbusters idea, and even offered some casting suggestions of his own including Melissa McCarthy, Kristen Wiig, Emma Stone, and Linda Cardellini. "I would go to that movie, and they'd probably have better outfits, too," he said last month. Now we just have to see if Feig can get him to go to that movie set as well.