Rob McElhenney To Write And Direct Family Adventure 'Figment' For Legendary Pictures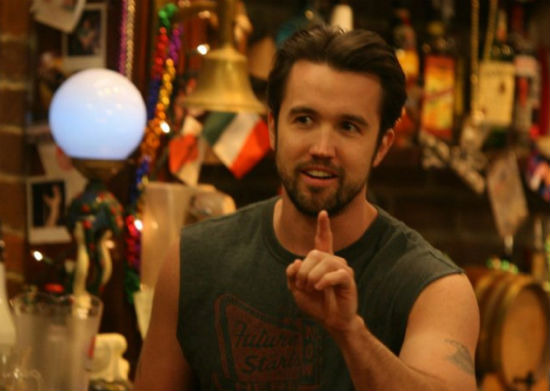 Out of all the words in that headline, it's "Legendary Pictures" that should grab your attention. Sure you know Rob McElhenney. He's the co-writer, co-star and co-creator of It's Always Sunny in Philadelphia. And Figment, well, that could be anything. But "Legendary Pictures" has a certain connotation. They make big tentpole movies, so it's very intriguing to hear that McElhenney has signed a deal to write and direct his feature debut with the company. What's even better is that Figment is a big family adventure. Read more below.
Deadline broke the news about Rob McElhenney and Figment. According to the site, McElhenney made a four-minute reel and a twenty-minute pitch to the Legendary executives about the film and they gave him seven figures on the spot.
Figment is described as "a family action adventure about an imaginative boy and his family who are thrown for a loop when their greatest fears come to life." The films it shares themes with are reportedly E.T. and The Goonies.
There's also a mention of the main character having a "figment," which you might assume is some kind of imaginary character.
I love big, original ideas for family adventure films like this. Hollywood needs more of them. As for McElhenney, he's not well-known as a director but he's been putting out one of the most buzzed about shows on TV for the better part of a decade at this point. That kind of thing doesn't happen by accident and he's incredibly dedicated to storytelling. Remember when he literally gained 50 pounds so the characters on the show could make jokes about his weight gain?
Figment, though, sounds like the polar opposite of It's Always Sunny in Philadelphia. It should be very interesting and exciting to follow the progress of this one to see if it can even capture half the heart of the Eighties films its inspired by.
What do you think about McElhenney writing and directing a family adventure for Legendary?