'Miss Meadows' Trailer: Katie Holmes Is A "Pulp Fiction Mary Poppins"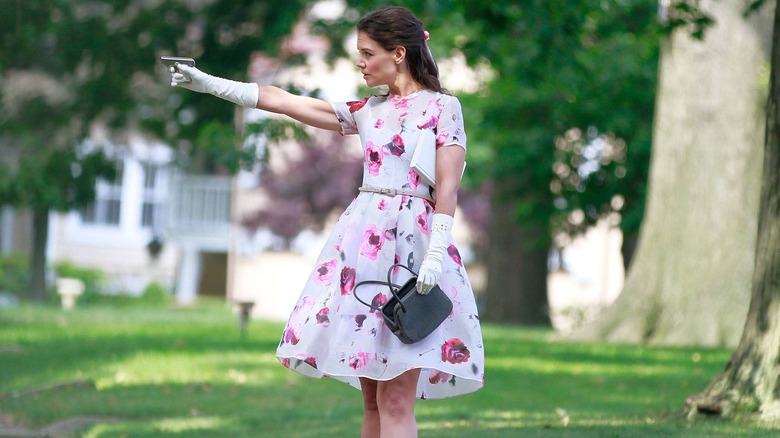 Thought billionaire playboys made for unlikely vigilantes? You haven't met Miss Meadows, the heroine of Karen Leigh Hopkins' offbeat indie thriller of the same title. Played by Katie Holmes, this prim and proper elementary school looks so sugar-sweet, bluebirds literally follow her around while she tap-dances down the street. But what her community doesn't know is that when they're not looking, she moonlights as a pistol-packing avenger.
This is obviously a big problem for the bad guys in her town but it also proves a headache for local law enforcement, represented by James Badge Dale. Especially once he starts falling for her. Hit the jump to see the new Miss Meadows trailer.
Well, no wonder Miss Meadows is so screwed up. Her mom is quick to call the world "a rotting cesspool of decay and mediocrity," and that rainy funeral scene suggests she may have suffered the same kind of early family tragedy that turned Bruce Wayne and Peter Parker into superheroes.
There's no denying Miss Meadows has an eye-catching star and an attention-grabbing premise. But does the film itself live up to its weird promise? Reviews from Tribeca suggest: Eh, not really. THR found the tonal shifts made Miss Meadows feel "off-puttingly bizarre" and The Playlist complained Hopkins' direction was "slack and undisciplined." But hey, on the bright side, at least some people found Holmes performance "note-perfect."
Miss Meadows gets a limited release starting November 14.
Miss Meadows is a school teacher with impeccable manners and grace. However, underneath the candy-sweet exterior hides a ruthless gun-toting vigilante who takes it upon herself to right the wrongs in the world by whatever means necessary. For Miss Meadows, bad behavior is simply unforgivable.