Pixar Artist's Book 'Timeless' Nabs Movie Deal With Ridley Scott Producing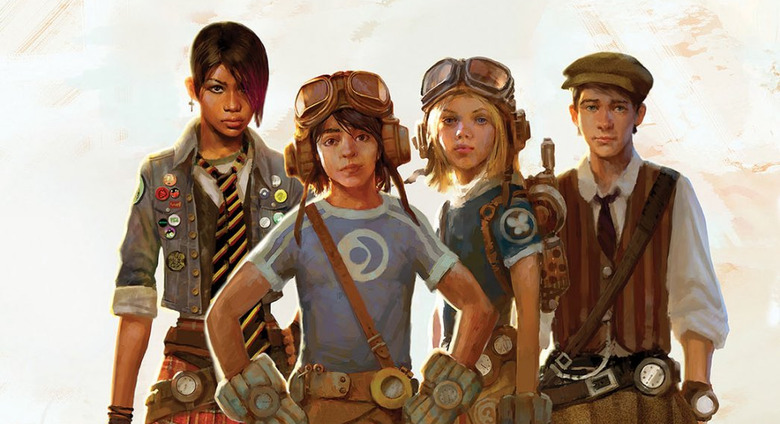 Fox's next family-friendly hit could come from a former Pixar artist. The studio has just picked up the rights to Timeless, a three-book children's series by Pixar alum Armand Baltazar. Carlos Saldanha (Rio) is attached to direct and Ridley Scott will produce.
The plot centers around a group of kids from different time periods — Victorian England, the 1920s, the 1980s, and the modern day — who band together. It's described as being "in the vein of Avatar and Harry Potter," so you know the studio has dollar signs in its eyes. Hit the jump for more details on the Timeless movie.
THR reports Fox struck a deal in the mid-six-figures for the property. The Timeless movie is envisioned as a live-action / CG hybrid project. Saldanha's feature directing experience so far has exclusively been in animation — specifically, Robots, the first three Ice Age movies, and both Rio films. However, he's set to make his live-action debut with Fox's graphic novel adaptation Rust.
Timeless is set in Chicago, where a "time collision" has brought together people and creatures from the past, present, and future. At the center of the story is Diego, whose father has been captured by a Roman general. He sets out to rescue his dad with his time-transcending group of pals. HarperCollins will publish the first volume in fall 2016.
Baltazar's credits from his time at Pixar include Cars 2 and Brave. He's also worked on The Price of Egypt and The Princess and the Frog. He left his post at Pixar to write the Timeless books, inspired by the stories he told to his own son Diego. He told THR the time-mixing was a metaphor for modern America's melting pot culture.
"Together [the characters[ find value in their differences and they use that in their quest to save their families — and eventually their place in this fantastically changed world," he said. "It's an underlying theme to the adventure: cultures from [different] times and places [co-]existing, ... struggling to save their world from those that would change it back."
Check out Baltazar's eye-popping concept art for the Timeless books below.