'Why Don't You Play In Hell' Trailer: Young Filmmakers Caught In An Odd, Bloody Battle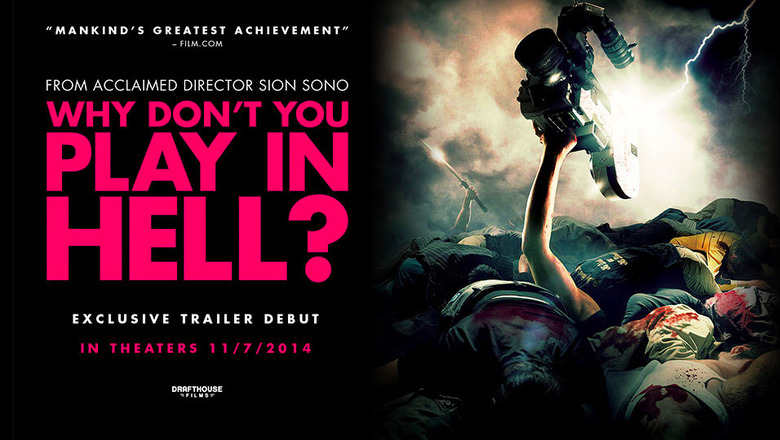 It's easy enough to describe the story in Sion Sono's Why Don't You Play in Hell — a skin-of-the-teeth filmmaking group calling itself the F*** Bombers gets involved in a yakuza rivalry, and is given the opportunity to make the ultimate gangster movie by filming the collision between two gangs. But it is almost impossible to describe the total whackadoo spirit of the film, in which nothing seems out of bounds, and in which Sono never casts aside an idea as too difficult or out there. The Why Don't You Play in Hell trailer only starts to get across just how fervent, energetic and entertainingly indulgent this movie can be, but it's a good start.
I saw Why Don't You Play in Hell just over a year ago, at midnight in the middle of a packed festival program, and parts of the film exist in sort of a hazy dream state in my mind. But that's perhaps the perfect way to see and remember this movie; it's less a thing to be fully digested and understood as it is a pure experience.
Apple has the trailer. Why Don't You Play in Hell opens on November 7.
There's a war going on, but that won't stop the inexperienced but eager wannabe film crew The F*ck Bombers from following their dreams of making the ultimate action epic. Ten years ago, yakuza mid-boss Ikegami led an assault against rival don Muto. Now, on the eve of his revenge, all Muto wants to do is complete his masterpiece, a feature film with his daughter in the starring role, before his wife is released from prison. And The F*ck Bombers are standing by with the chance of a lifetime: to film a real, live yakuza battle to the death... on 35mm! Endlessly irreverent and wildly, hilariously visceral, Why Don't You Play In Hell? is a Tarantino-esque ode to the yakuza films of yore, and features an over-the-top, blood-soaked finale for the ages.