Michael Keaton On Playing Batman Again And 'Batman Forever;' Plus Producer Talks Ben Affleck And Christopher Nolan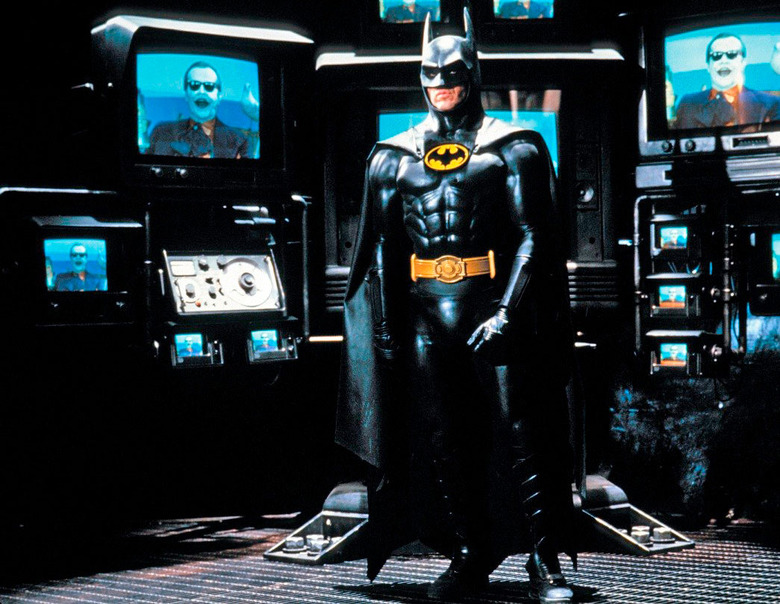 A few new details in the on-screen history and future of Batman have been revealed this week. First up, Michael Keaton is out promoting his new superhero film Birdman and is answering lots of questions about his iconic role as the Caped Crusader in Tim Burton's films. He said the reason he didn't do Batman Forever is because the studio didn't appreciate the character in the way he did. But he said that he would play the character again — under one condition.
Also, producer Charles Roven (who did all of Christopher Nolan's Batman films, as well as Man of Steel and the upcoming Batman v Superman: Dawn of Justice) revealed Ben Affleck was everyone's first choice to play the character in the new film. Even Christopher Nolan had an opinion on the casting. Read the Michael Keaton Batman Forever quote and more below.
First up, Keaton. Speaking to Entertainment Weekly (in the magazine, not online yet), the actor said he would return to play Batman under one condition:
If it was Tim Burton directing? In a heartbeat. Tim, in movies, really invented the whole dark superhero thing. He started everything, and some of the guys who have done these movies since then don't say that, and they're wrong.
The article says that both he and Burton wanted to come back to do a third film "delving into Batman's past." But that wasn't wasn't what Warner Bros. wanted:
I hadn't been stupid about it. I always knew it was a big machine with a big studio and corporation and board behind it. But the simple answer was, It wasn't any good. I was nice. I said to them, 'This is a really interesting character with a dual personality.' I tried to make them understand. But when someone says to you, 'Does it have to be so dark?'...I thought, Are we talking about the same character? So finally I just said no. And as the years wore on, I think more and more people said, 'Yeah, I get what that dude was about.'
Keaton also told the magazine he's never seen one of Christopher Nolan's Batman films all the way through. One person who has, because he produced them all, is Charles Roven. He did a new interview talking about the latest iteration of Batman: Ben Affleck in Batman v Superman: Dawn of Justice. In the interview with The Hollywood Reporter, he confirmed that neither he nor Zack Snyder wanted anyone else in the role:
He was the first guy we went to. That's who we wanted. We knew that we wanted a very mature Batman, because we wanted to juxtapose him with this very young Superman. So we wanted a guy who was tougher, rugged, who had signs of life, who had lived a hard life, and we wanted the guy to have chops, for sure. So when we went down that list, there just weren't a tremendous number of guys who could carry that.
One of the people who signed off on Affleck was Christopher Nolan. Still a producer on Batman v Superman, though he was working on Interstellar for most of the film, Roven said the director did act in an "advisory capacity." "[He was] certainly involved in different stages," Roven said, including the casting.
But what does Keaton think of Ben Affleck? More from the EW piece:
My attitude is, First of all, why would you ask me? Second, he's probably going to be very good, and third, frankly, it's all set up now so that you're weirdly kind of safe. Once you get in those suits, they really know what to do with you. It was hard then; it ain't that hard now. Now I can say this, because for many reasons, I never allowed myself to say it at the time: It was never about Batman for me. It was always about Bruce Wayne. He's funny! He's screwed-up! This guy is the coolest motherf***er in the world, and he's messed-up! As for the other half of the part: Just work that suit, man. Just let that suit go to town.
Birdman opens in limited release Friday. Batman v Superman opens March 2016.