Limited Edition Stay Puft 'Ghostbusters' LP Release Smells Like Marshmallows

The 30th anniversary of Ghostbusters seemingly reached its climax last week when a new film was finally announced. And while the news was not what most expected to hear, the timing couldn't have been better. All year, fans had been celebrating the 1984 comedy classic with art shows, events, screenings, donuts and more. A new movie, reboot or not, seemed like perfect cherry on top.
Now it looks like we're putting some marshmallow on top of that cherry. A brand new Stay Puft Ghostbusters vinyl has been revealed that not only looks, but also smells like marshmallows. The deluxe double-12" single set also includes some cool lenticular images, two songs and more. The limited edition release is now available for pre-order. Read more below.
Here's an image of the Stay Puft Ghostbusters vinyl set: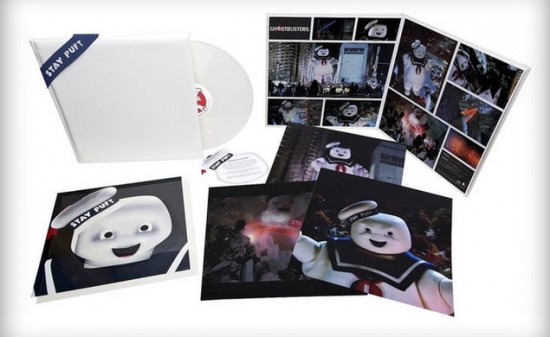 And here's the full info. You can pre-order the release at this website:
The Traveler has come! Legacy Recordings celebrates the 30th anniversary of the classic comedyGhostbusters in the biggest, fluffiest way.  The Stay Puft Super Deluxe Edition Vinyl is a  limited edition collectible vinyl package in honor of the terrifying but tasty Stay Puft Marshmallow Man. This package contains the No. 1 hit single "Ghostbusters" by Ray Parker Jr. and the fan-favorite  "Ghostbusters" rap by Run-DMC for the film's hit sequel featured on a white 12" single in a deluxe collectable package.
This deluxe package includes the following: 
12" White vinyl single – both tracks are on Side A.  Side B is smooth
Two 12 x 12 Stay Puft 3D lenticular images from the film
One 12 x 12 Stay Puft 3D motion lenticular image from the film
Puffy gatefold jacket which simulates the feel and texture of a marshmallow
Marshmallow scented jacket
Inner gatefold includes full photo collage of Mr. Stay Puft's iconic march through New York City.
Numbered Certificate of Authenticity 
Also included in this limited edition version is one complete set of Stay Puft Marshmallow Man facial expressions with three individual emotions separated onto layers of unbound transparencies. The set is contained in a clear sleeve pouch.  
As an added bonus, you will receive a FREE 6 inch Stay Puft figurine with your purchase. 
There will only be 3,000 of this exclusive super deluxe package and it is only available here.