Star Wars Bits: Harrison Ford Done Filming 'Episode VII,' Plus 'Star Wars Rebels,' Brad Bird, Adam Driver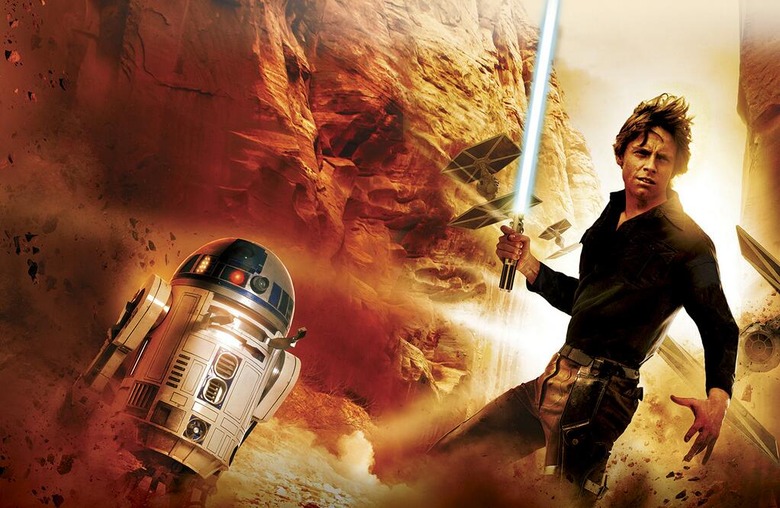 Updates from the set of Episode VII, some awesome Rebels clips and lots of other odds and ends are in this edition of Star Wars Bits. Below, read about the following:
A fire evacuates the set of Star Wars Episode VII, and Harrison Ford has reportedly finished filming.
Is casting for the Star Wars spinoffs and sequels already happening?
Watch a new clip from Star Wars Rebels and get a brief tease at what's to come for the rest of the season.
Brad Bird stumbles around the question of whether or not  he'll eventually direct a Star Wars movie.
J.J. Abrams answers a young boy's Star Wars math problem.
Judd Apatow meets George Lucas.
Joel Edgerton refers to Adam Driver as the Star Wars Episode VII villain.
Two more cancelled Lucasarts Star Wars games have been revealed.
Check out a live tweet recap of the A New Dawn panel at New York Comic-Con.
Read a detailed description of Heir of the Jedi by Kevin Hearne.
The Star Wars Fan Film Awards are coming back.
On the Star Wars Episode VII front, the Sunday Express in London reported a cook working at Pinewood Studios where the film is shooting set off a fire alarm. This triggered alarms to go off everywhere at the studios and everyone, including the Star Wars crew, had to evacuate for a bit. The disturbance wasn't on the same stages the film is shooting, and nothing was damaged.
Speaking of damaged, the Daily Mail reports Harrison Ford has joined Anthony Daniels and Oscar Issac as actors who've completed their work on Episode VII. We can't confirm this, but it seems possible. Thanks to Star Wars 7 News for this and the previous story.
Making Star Wars is reporting several people who auditioned for Star Wars Episode VII so many months ago are now getting callbacks for other new projects. Are these the spinoffs? Episode VIII? We don't know. But it's an interesting twist.
Here's a new clip from Star Wars Rebels that premiered at New York Comic-Con.
Not to mention, here's a new video teasing the rest of the season. This might be the best tease yet:
Brad Bird was at NYCC talking about Tomorrowland and IGN asked him if he would ever direct a Star Wars movie. He doesn't say "No," and frankly seems thrown by the question. We can dare to dream, right? The moment is about 2 minutes in.
A few weeks back, a young boy's Star Wars-themed math problem went viral on the Internet. In an awesome twist of fate, it turns out J.J. Abrams not only saw it, he solved the problem. Here's the original math problem followed by J.J.'s response. Read more at Topless Robot.
This is simply awesome.
He told me the entire story of the new Star Wars movies. And then I told him an idea I have for a funny tweet. pic.twitter.com/oN0x2iNY6O

— Judd Apatow 🇺🇦 (@JuddApatow) October 10, 2014
Speaking to MTV, Joel Edgerton told a story about working with Adam Driver after he was cast in Star Wars Episode VII. He refers to him as the villain, though it's unclear if he's just going off a rumor for that info.
Get More:
IGN (via SW7News) spoke to the Former President of Factor 5, Julian Eggebrecht, who revealed the company was working on two additional Star Wars games for Lucasarts when the company went kaput. Watch below to learn more:
Star Wars Underworld was at the Star Wars: A New Dawn panel at New York Comic-Con and live tweeted the proceedings. There are some cool tidbits here about that book as well as a few of the other books.
Among those are books are Heir to the Jedi by Kevin Hearne which will be released on February 17. Random House (via JediNews) ran a detailed description of the book. Head there to read it more, here's a taste:
Luke Skywalker's game-changing destruction of the Death Star has made him not only a hero of the Rebel Alliance but a valuable asset in the ongoing battle against the Empire. Though he's a long way from mastering the power of the Force, there's no denying his phenomenal skills as a pilot—and in the eyes of Rebel leaders Princess Leia Organa and Admiral Ackbar, there's no one better qualified to carry out a daring rescue mission crucial to the Alliance cause.
Finally, I think this has been previously announced but I'm not sure we reported yet. The official Star Wars Fan Film Awards, which haven't happened in a few years, are coming back at Star Wars Celebration Anaheim next year. Read more.