First Look At Charlie Cox As 'Daredevil,' Rosario Dawson's Role Revealed [Updated]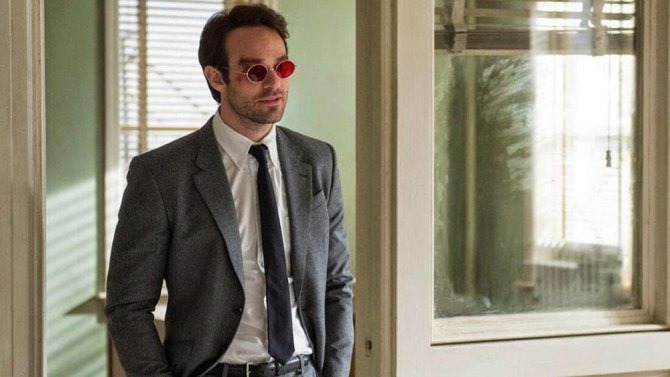 Marvel brought the cast of Daredevil to the New York Comic Con today. Along with the debut of some Con-only footage, they offered up the first official photos of Charlie Cox as Daredevil. One (above) shows him in Matt Murdock mode, while the other shows a first-gen Daredevil costume. While we can't show you any footage just yet, there's a lot of other info from the panel to pass along. One tidbit is the identity of the character played by Rosario Dawon, as well as the casting choices for a whole host of additional Daredevil players. Get the first look at Daredevil below, along with a lot more info.
Update: We've got a bunch of panel video from New York Comic Con, so you can see the cast and creators talking about the show.
Here's the "in-costume" shot, which represents a very early incarnation of the hero. We'll see him in a more developed red suit later in the show.
This costume is seen when Karen Page (Deborah Ann Woll) is menaced by an invader in her apartment. Murdoch, in the early Daredevil suit, fends off the intruder, with the fight carrying the two men out the window into a fall of several stories.
Beyond that there's a lot of ground to cover, so we're going to bullet-point it.
Rosario Dawson is playing Claire Temple [via THR] who has been romantically linked to Luke Cage in comics stories. But she was introduced with a very specific line from Jeph Loeb, who called her "a nurse who works at night." That sounds like a reference to Night Nurse, a brief Marvel series from the '70s which explored the work of nurses doing night shifts at New York hospitals in the age of superheroes. That concept was revived many years later in a Daredevil run by Brian Michael Bendis. And the first footage of Dawson in character showed her tending to Matt Murdock after he takes the fall mentioned above; she's tolerant of his unwillingness to unmask, nicknaming him "Mike" after an ex-boyfriend who also kept secrets.
There were also four new actors revealed, along with their roles:
Ayelet Zurer as Vanessa Marianna
Vondie Curtis-Hall as Ben Urich
Bob Gunton as Leland "The Owl" Owlsley
Toby Leonard Moore as Wesley
Charlie Cox talked about playing Daredevil, as transcribed by Deadline: "It's been a real challenge. There are so many aspects. There's the blindness and physicality. Making a show is about human emotion, conflict and turmoil. When meeting a man who's a lawyer by day and believes in law and justice and then a man by night is someone who takes the law into his own hands. He deals with battles dealing with that concept."
When casting for Jessica Jones and Luke Cage was brought up, Jeph Loeb said "neither one of those roles have been cast. Anything you've heard? Just a rumor."
Loeb was asked about the possibility of the Netflix series connecting to Agents of SHIELD. "I have two answers: one, that's a level-seven question, and two, I think you know — it's all connected, man."
Vincent D'Onofrio described Wilson "The Kingpin" Fisk: "Our Fisk, he's a child and he's a monster. Every move that he makes and everything that he does in our story comes from his foundation of morality inside himself. And meeting Vanessa, the one thing that she does for him so far, is brings him out of the shadows. So we've been able to do, like they've done with Charlie as well, is you have a feeling of the origin of Wilson, and how he comes this iconic character that everybody seems to dig. We're playing it real, we're playing it emotional, and moment to moment, and I'm digging it."
Showrunner Steven S. DeKnight said "There are no heroes or villains, there are just people making different choices. [Daredevil is] one bad day from becoming Frank Castle instead of Matt Murdock. With Wilson Fisk, when you hear the explanation of what he's doing and why he's doing it, you'll say, 'You know, that's not a bad idea. That's pretty good.'"
Finally, here's concept art for the show by Joe Quesada, bridging the art that inspired the show (from the 1993 Daredevil: Man Without Fear! storyline by John Romita Jr. and Frank Miller) and the early costume shot seen above.
(This early version of the suit also looks a lot like the really bad Daredevil from the 1989 Trial of the Incredible Hulk TV movie, which was intended as a backdoor pilot for a Daredevil show that never happened.)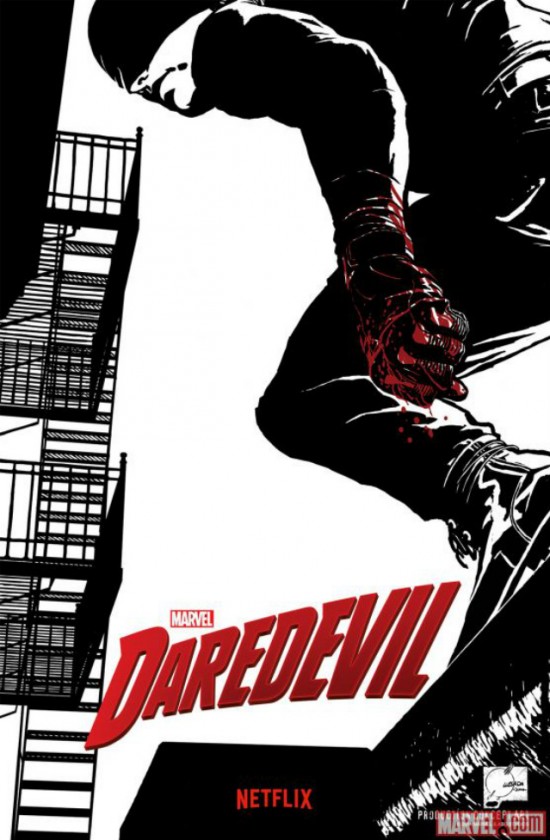 Update: Here is a set of video reels featuring interviews with the Daredevil team.