Joseph Kosinski To Direct 'The Trials Of White Boy Rick'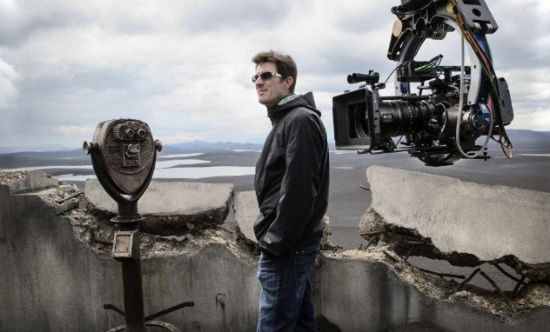 Joseph Kosinski has been established as a sci-fi director thanks to Tron Legacy and Oblivion, his work on the Black Hole remake, and commercial work such as his recent Destiny spot. But he's working to move in other directions, with non-sci-fi developments. One was the project Go Like Hell he and Tom Cruise were trying to put together, about the rivalry between Henry Ford II and Enzo Ferrari.
Now Kosinski has a new project, and it also steps away from the sci-fi angle. As with Go Like Hell, this one is based on a true story. In this case, the basis is an article by Evan Hughes that investigates the story of a 17-year old drug dealer who claimed also did work as an FBI informant. Universal just optioned The Trials of White Boy Rick and set Kosinski to direct.
The news comes from THR, which explains that Universal optioned the article which was published only at the end of this past September. (The story of White Boy Rick is well-known to some Detroit residents, though Hughes aimed to shed new light on it.) The Atavist has the piece, and this summary:
They called him White Boy Rick. In a city known for its fraught racial divide, Wershe had somehow joined the ranks of the drug kingpins on the predominantly black East Side before he was old enough to shave. He flew in kilos of cocaine from Miami and drove a white Jeep with THE SNOWMAN emblazoned across the back. An incredulous judge once compared him to the gangster "Baby Face" Nelson. He seemed more an urban legend than a real person—and then his story got even stranger. Years later, while he was in prison for cocaine possession, Wershe claimed he had been working with the FBI since he was 14. Was one of Detroit's most notorious criminals also one of the feds' most valuable informants in the city? 
That question is at the heart of Hughes' investigation — was Rick just a dealer who tried to cover his ass, or an actual FBI informant? One of Hughes' primary sources is the still-incarcerated Rick, and The Atavist pitches the story as "a true-crime saga of hidden motives and betrayed trust." It sounds like great movie material; whether or not Kosinski will be able to make it work is another question. He's proven himself as an impressive visualist who doesn't have the same command of story and character.
This one is in the very early stages, with no screenwriter announced as of yet.