12 Monkeys TV Series Premiere Date Set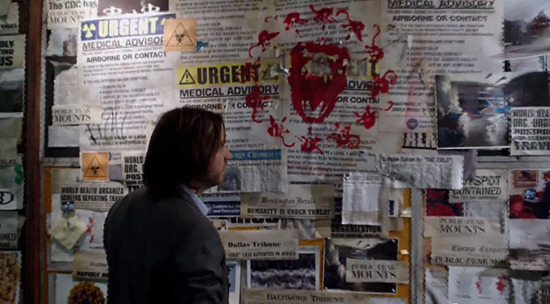 So as not to be left out of the pattern of producers redoing established film properties as television shows, SyFy has made a 12 Monkeys TV series. The show appears determined to expand the story told in Terry Gilliam's film, with Aaron Stanford (Nikita, Pyro in the X-Men films) playing the Bruce Willis role of Cole, who travels back in time from 2043 in order to locate the source of a plague that will all but wipe out humanity. We've seen a trailer, and now SyFy has set the premiere date in stone. 
12 Monkeys will premiere almost exactly 19 years after the original film opened in general release, as SyFy has set Friday, January 16 2015 at 9pm ET/PT as the premiere. (The film 12 Monkeys premiered in late '95, and then opened in general release on January 5, 1996.)
In addition to Stanford, the cast features Amanda Schull in the Madeleine Stowe tole of Dr. Cassandra Railly, who runs across Cole multiple times and ends up allied with him on his mission. (In the original film, the character was named Kathryn Railly.) 
And Emily Hampshire plays Jennifer Goines, a patient in a psychiatric hospital who also ends up working with Cole. This is a modified version of Brat Pitt's role in the original film. Noah Bean, Kirk Acevedo, Barbara Sukowa and Tom Noonan also star.
Based on the 1995 film directed by Terry Gilliam, "12 Monkeys" follows the journey of a time traveler from the post-apocalyptic future who is on a mission to eradicate the source of a deadly plague.