Amazon Renews 'Transparent'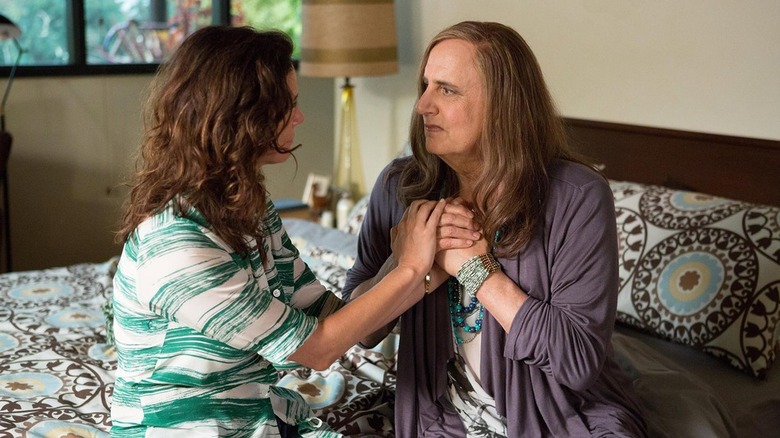 Amazon first started releasing original series last year, but it wasn't until this fall's Transparent that they had a real smash hit. The dramedy debuted to great critical acclaim, and attracted enough viewers to "smash Prime Instant Video records." And so, because Amazon is not stupid, it's going back for more. The company has just re-upped Transparent for a second season to premiere in 2015.
Hit the jump for more details on the Transparent renewal. 
Amazon announced the news today, citing the show's "overwhelming success" and "incredibly positive viewer response." While the company did not release exact ratings figures, Transparent has been the #1 show on Amazon Instant Prime since its debut on September 26. It's also the most binge-watched show ever on the service, with nearly 80% of all Transparent viewers watching two or more episodes in one day. (Which seems like a low bar for calling something a "binge," but okay.)
Created by Jill Soloway, Transparent stars Jeffrey Tambor as Maura Pfefferman. She's only now coming out as transgender after spending most of her life as Mort Pfefferman, patriarch of a loving if dysfunctional family that includes ex-wife Shelly (Judith Light) and children Sarah (Amy Landecker), Josh (Jay Duplass), and Ali (Gaby Hoffman). Maura's reveal prompts a whole bunch of other family secrets to come to the surface as everyone adjusts to the new information.
Thanks to Amazon's method of posting pilots online before ordering them to series, Transparent began building buzz since even before it had properly premiered. This fall, it finally debuted for real with a ten-episode first season. The series apparently hasn't disappointed. "We are absolutely thrilled that the response to Transparent has been so positive," said Amazon Studios VP Roy Price in a statement. "Given all this great feedback, it only makes sense to bring the Pfeffermans back next year in Season 2."