NYCC Recap: George Clooney Fights Robots In 'Tomorrowland' [Updated With Panel Video]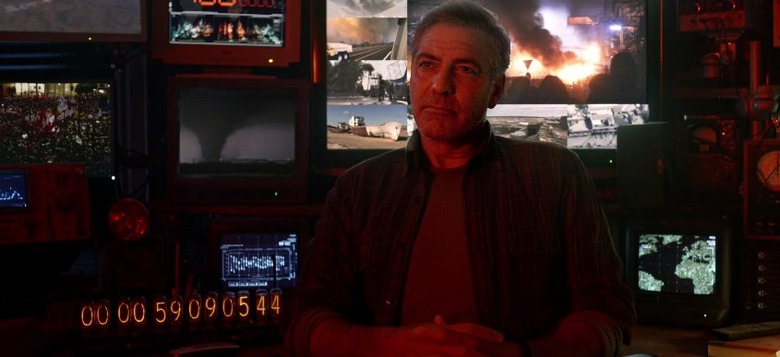 At this year's New York Comic-Con panel, Disney unveiled the very first Tomorrowland teaser. (See that here.) But in addition to that, the studio also showed the first clip from the movie — an action-packed sequence featuring Frank (George Clooney) and Casey (Britt Robertson).
That scene isn't available online, but lucky for you we have an in-depth summary right here. After the jump, get the Tomorrowland NYCC footage recap, plus highlights from the Tomorrowland NYCC panel featuring Clooney, Robertson, director Brad Bird, writer Damon Lindelof, and actors Hugh Laurie and Raffey Cassidy.
Update: Since most people couldn't be at the NYCC panel, we've now got pro-shot video that covers some of the panel discussion, even though it doesn't have the video clips shown off. There's also an interview with Bird and Lindelof from the con.

Tomorrowland NYCC Panel Recap
Perpetual panel moderator Chris Hardwick was on hand to run the show, and here's what we learned.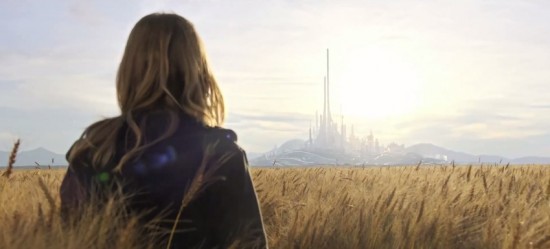 Tomorrowland stemmed from a conversation Lindelof had about "what a Disney movie should be." He explained, "When I first heard about Pirates of the Caribbean, to make a movie out of a theme park ride seemed ridiculous. But if there was a movie called Tomorrowland I would go see that movie, certainly if someone like Brad Bird was directing it."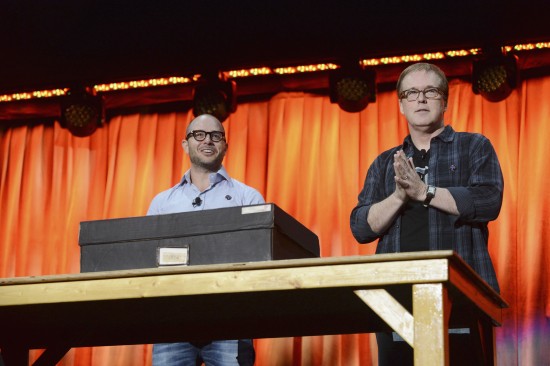 Bird signed on simply because "it sounded really cool to me." Lindelof and co-writer Jeff Jensen had brought the project to him, after developing a story based on a strange box they'd found while researching the history of Disney Parks' Tomorrowland.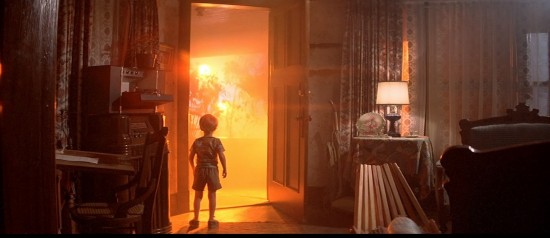 Close Encounters of the Third Kind was one of the cinematic inspirations for Tomorrowland. "It's essentially a discovery movie, it's about seeing something and being inspired by it," said Lindelof. Bird added, "It's about being implanted with a vision and pursuing that vision."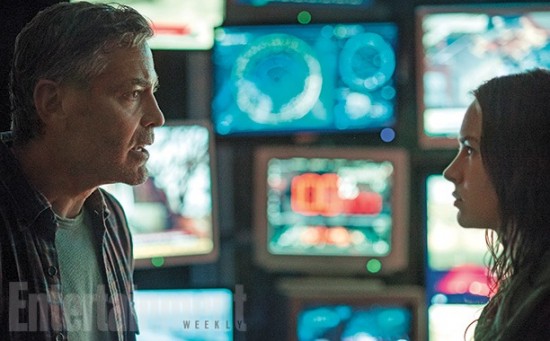 Everyone, and I mean everyone, is terrified of spoiling anything. Laurie joked that he is "still fascinated to know how it ends," and Robertson quipped that she would "get lashed if I say anything wrong." When asked to describe her mysterious character Athena, Cassidy nervously hemmed and hawed until Lindelof leaned over to whisper something in her ear. "She is extremely optimistic and she knows karate," Cassidy answered finally.
Tomorrowland is more ambitious than just your average sci-fi adventure. "They described to me an attitude, a way of thinking about life and specifically about the future that I had never heard before," Laurie said. "I left [the meeting with the filmmakers] thinking, these guys are on to something really exceptional, incredibly powerful and uplifting." He later added that Tomorrowland was "big, big, big, philosophically big, technologically big, dramaturgically big. The scale of the thing just boggled the mind."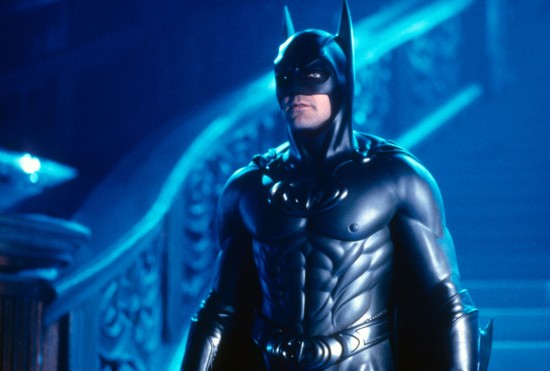 Clooney is still really sorry about that whole Bat-nipple thing. In fact, he thinks that's why this is his first Con. "I think since my Batman I was disinvited from Comic-Con," he joked. "I met Adam West, I was like 'Hey, I'm really sorry.' We did a fist bump, and I was just like, 'Hit me. Sorry about the nipples on the suit.' [He said,] 'It's okay, old chum.'"
After expressing mock indignation that he was barely in the teaser ("I don't want to say it, but I'm a big star!"), Clooney introduced the first Tomorrowland clip.
Tomorrowland NYCC Footage Recap
The scene opened with an aerial shot of a big grassy area with a road running through it. Cut to Casey, who walks toward a property with a mailbox labeled "WALKER." She climbs over the fence and heads to a dilapidated house, where she knocks on the door. There are security cameras all over the premises.
Frank can be heard yelling from inside the house: "Go away!" But she tries again. "My name's Casey. You're Frank, right, Frank Walker?" She continues, "I want you to take me there." Frank: "Take you where?" "The place I saw when I touched this," she says, flashing the orange pin at the security camera. At that point, a big force field sends her flying to the ground, and the door opens.
At first we see only Frank's feet. He comes out slowly and picks up the pin. "Wherever you came from, kid, go back," he says sternly. But Casey keeps insisting. "I want you to take me there. I feel like I have to, I feel like I'm supposed to go." Frank bitterly shoots back, "You are not supposed to. You have been manipulated to feel like you're part of something incredible, like you're special. You're not." "So that's a no?" she asks. He starts to say something, but thinks better of it and disappears back into the house without another word.
Hours later, it's dark and raining and she's still huddled in his doorway. She sticks out her tongue at one of his security cameras, as he watches from inside the house. Then an alarm goes off, and he sees a big tractor on fire and headed toward his house. He grabs what looks like a tricked-out fire extinguisher and runs outside to spray the flames. As he's doing this, Casey runs into the house and locks the door.
He's angry, pounding on the door and yelling and threatening to call the cops. Inside, she pushes a button that sends out a force field that knocks him off his feet. She looks around the house and makes her way to a room full of electronics: a dozen screens or more showing news reports from around the world, among other things, and what looks like a digital countdown clock. As she's taking it all in, the hallway stairs lift up and Frank comes in.
They start to argue. "Is that a countdown?" she demands. He doesn't want to respond, but she insists that she deserves some answers. "I know that you were there," she says.
Then the alarm goes off again, and he says, "They followed you here." They make their way to the security TVs where they see a man in a black uniform. "You are now harboring a fugitive," the man says to Frank. "Release her or be extinguished. You have one minute to comply." He flashes a polite yet creepy smile.
Frank presses a button and security doors immediately start slamming down around the house. However, one of the panels doesn't close all the way and a woman in uniform tries to come in. Frank stabs her with something that sends an electric shock through her.
From there on, more and more people in uniform come in and Frank and Casey have to defend themselves. A man walks in with a gun, but is zapped in some kind of booby trap and his head falls off. Turns out he's a robot. Another robot is ripped to pieces by a network of lasers, another is sent falling through a trap door, and so on as explosions go on around the house. Any barrier Frank and Casey try to put up, the robots try to cut through.
At one point, Frank is cornered by one of the robots who starts to explain the charges against him. It has its weapon — apparently a sort of taser that looks like a staple gun — pointed at Frank's head. But Casey appears from behind and starts beating it with a baseball bat.
Eventually Frank and Casey make their way to the bathroom, where they get into the tub. Frank presses a button on a remote control, which brings up a metal cover for the bathtub. A robot is still trying to make its way in, but Frank and Casey manage to blast through the roof of the house and into outer space with the robot still on top.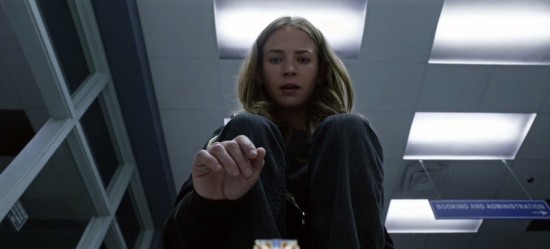 Tomorrowland NYCC Footage Reaction
Overall, the scene was exciting and inventive and just plain fun. Watching robots dispatched in different, creative ways is a delight. And the fact that the attackers were robots and not people gave Disney a neat workaround: the home invasion sequence might have been R-rated if it involved real people, but watching circuits get fried is a lot less upsetting than seeing blood splattered.
Interestingly, the feel of the movie (at least this part of it) didn't have the glossy "Apple Store" feel of many contemporary sci-fi movies. It felt grittier — steampunk-y almost, only not retro. Frank's home, despite being very high-tech, felt kind of old and junky. We didn't see enough of Tomorrowland to tell whether this grimier aesthetic holds through the rest of the film, but if it does it could be a refreshing change of pace.
Most of all, I was excited by the philosophical "big ideas" that the panelists kept teasing. We have a long way to go until Tomorrowland actually opens, but if the cast and crew pull it off, it could be one very unusual movie.
Tomorrowland appears in theaters May 22, 2015.
Update: Here's the video featuring footage from the panel. (Minus actual film clips.)
And here's a press line interview with Brad Bird and Damon Lindelof, though it talks more about New York Comic Con and the experience of being there with the film than it really talks about the film itself. A couple other interviews follow.