Watch The 'Big Hero 6' Footage From New York Comic Con [UPDATED With Panel Highlights]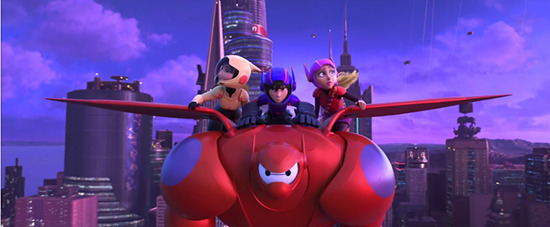 Most of what we've seen from Big Hero 6 involves the young inventor Hiro at home with his not-yet-armored inflatable robot Baymax. That stuff has been entertaining, but now you can see the film's villain, along with a trailer-length blast of action featuring the story's entire team of would-be heroes. At New York Comic Con Disney Animation debuted a sizzle reel trailer for the film that will give casual viewers a much better idea of the look of the film, the characters, and the action as they all come together. Any Baymax is still cute as hell, even when encased in imposing armor. Check out the Big Hero 6 NYCC trailer below.
Big Hero 6 NYCC Panel Highlights
Marvel was very much involved in the making of Big Hero 6. "Joe Quesada and Jeph Loeb attended all the storyboard meetings," revealed co-director Don Hall.
Much of the dialogue was improvised. "So much of the best lines in the movie came from [the actors]," said co-director Chris Williams. Actor T.J. Miller concurred, in his typically jokey way. "I improvised a lot. Like Chris said, most of the best lines come from us."
There's a story behind the team's superhero names — or at least Wasabi's. "I got Wasabi on my shirt one time!" the character (voiced by Damon Wayans Jr.) protests in a clip.
Genesis Rodriguez related in a big way to her adorably nerdy character. "It's the perfect project because Honey Lemon is so me. I was in a robotics team growing up in high school, so [it felt like] this character was written for me." She explained that she was a welder who built BattleBots.
Jamie Chung's GoGo Tomago is the strong, silent type. "GoGo was described to me as the Clint Eastwood of the group. She's a woman of few words but when she speaks she's really dry and very sarcastic."
Scott Adsit is adorable when he geeks out. "It's very strange to be here right now because I've tried to get into this room every year for the past ten years," he gushed. "My life has been as a fan of things like this for so long, and now I'm up here with these amazing actors and filmmakers."
Big Hero 6 opens on November 7. Footage via Disney.
From Walt Disney Animation Studios, the team behind "Frozen" and "Wreck-It Ralph," comes "Big Hero 6," an action-packed comedy-adventure about the special bond that develops between Baymax (voice of Scott Adsit), a plus-sized inflatable robot, and prodigy Hiro Hamada (voice of Ryan Potter). When a devastating event befalls the city of San Fransokyo and catapults Hiro into the midst of danger, he turns to Baymax and his close friends adrenaline junkie Go Go Tomago (voice of Jamie Chung), neatnik Wasabi (voice of Damon Wayans Jr.), chemistry whiz Honey Lemon (voice of Genesis Rodriguez) and fanboy Fred (voice of T.J. Miller). Determined to uncover the mystery, Hiro transforms his friends into a band of high-tech heroes called "Big Hero 6." Inspired by the Marvel comics of the same name, and featuring breathtaking action with all the heart and humor audiences expect from Walt Disney Animation Studios, "Big Hero 6" is directed by Don Hall ("Winnie the Pooh") and Chris Williams ("Bolt"), and produced by Roy Conli ("Tangled"). The film hits theaters in 3D on Nov. 7, 2014.