'Wolves' Red-Band Trailer: Jason Momoa Is A Sexy Werewolf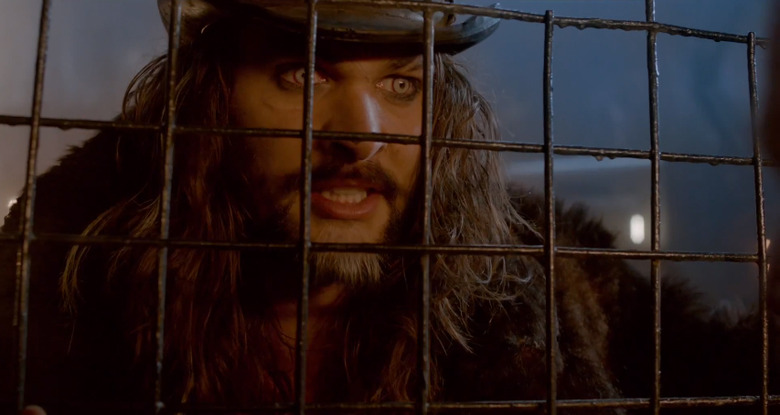 Jason Momoa is probably only a small part of Wolves, the movie from writer/director David Hayter, but he looks like one of the best parts. Hayter jumps from screenwriter (X-Men, Watchmen) and voice actor (he was Solid Snake in the Metal Gear Solid games until Kiefer Sutherland took over) to feature director. Wolves is about — brace yourself — a bunch of werewolves. Lucas Till plays a high school kid who has some hairy stuff developing in his blood. He hits the road and ends up in a town full of secrets and werewolves. I'm sure there's a coming of age metaphor here somewhere, but you'll have to give me a minute to pin it down. In the meantime, watch the Wolves red-band trailer below.Is Momoa going into a sort of Rob Zombie-lite mode? He smokes a skull pipe. And no matter the material, Stephen McHattie is always watchable. Set his name down as another potential highlight of this one.
There's also this all-ages trailer, if you're somewhere for which a bit of sex and nudity seem inappropriate.
Wolves hits VOD on October 16, and will have a limited theatrical opening on November 14. Trailer via Ketchup Entertainment.
Popular high school student Cayden Richards wakes from a horrific nightmare, only to realize that he's living it... He is changing into something vicious, unpredictable and wild. Forced to hit the road after the brutal murder of his parents, Cayden tries to hunt down the truth of what he is. In the remote, mountain town of Lupine Ridge, he discovers others like him — Including the beautiful Angelina, a young woman caught between two ancient clans of "wolves". And when he finally discovers the shocking truth behind his ancestry, Cayden realizes there is only one way to save the woman he loves... a grisly fight to the death against forces more savage than he could have ever imagined.