Remember The 1990 Uncle Buck TV Show? It Was Horrible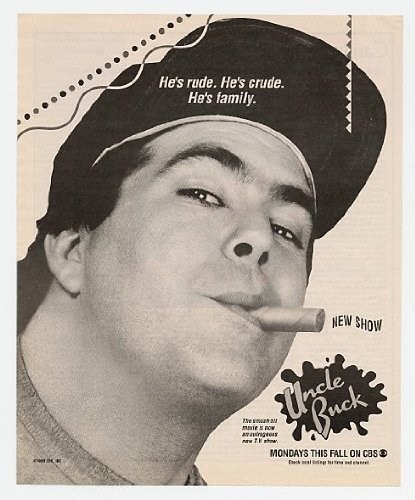 Earlier today we told you that ABC and MadTV alums Steven Cragg and Brian Bradley were planning to turn John Hughes' 1989 comedy Uncle Buck into a new multi-camera half-hour series. I almost included TV Show adaptations of popular 1980's and 1990's movies as the 10th entry on my list of Current Movie Trends I Hate (read the list of nine, if you haven't already). The only reason it didn't make the list is that Fargo ended up being my favorite television series this year, thus as annoying as the announcements are and as horrible as it may sound, it may be too early to "hate." But I thought now would be a good time to look back at the original Uncle Buck television show from 1990. You might not remember it because it only lasted one season and was pretty horrible.
After the success of Uncle Buck in theaters, CBS ordered a television sitcom based on the 1989 movie. The series, which was also titled Uncle Buck, was written by Tim O'Donnell (Gloria, Diff'rent Strokes, Growing Pains and Just the Ten of Us) and debuted in fall 1990. The series starred stand-up comedian Kevin Meaney as Buck, the lovable freeloader "slob who drinks, smokes and is named the guardian of Tia (Dah-ve Chodan), Miles (Jacob Gelman), and Maizy (Sarah Martineck) after his brother and sister-in-law, Bob and Cindy, die in a car accident." The show also included the kids grandmother Mrs. Hogoboom (Audrey Meadows) and Buck's poker-playing buddies Skank (Dennis Cockrum) and Rafer (Thomas Mikal Ford).
Critics hated the series and many were upset with the show after its very first line of its very first episode (Buck's little niece yelled, "You suck!'" at her brother, which yes, at the time was controversial for a network television series). The series was quickly pushed from Monday nights to Friday nights, where it was quickly cancelled due to poor ratings. TV.com has a full episode guide if you want to revisit some of the plots, but why would you want to?
But since we're all here, lets take a look at some video from the 1990 Uncle Buck TV Show, starting with a short tv promo:
Here is the television show intro for the 1990 Uncle Buck tv show:
And for those few of you who haven't run away from their computer screens screaming and laughing at the same time, here is a full clip from the show: