Brad Bird's Tomorrowland Teaser Trailer Takes Us To Another World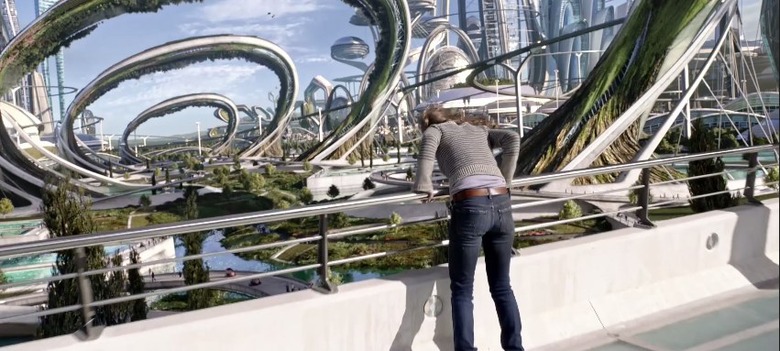 This post has been updated with high resolution unwatermarked images.
Walt Disney Pictures has released the first Tomorrowland teaser trailer. Brad Bird's new film was just previewed during a presentation at New York Comic Con. Check back later as Angie will have coverage of the panel which included footage not available online. But you can now hit the jump to see the first Tomorrowland teaser trailer, a new Tomorrowland posters and the first lookphotos that were released earlier this week .
Tomorrowland Teaser Trailer
So many times these days do we complain about teaser trailers showing and revealing too much. The Tomorrowland teaser trailer is a throwback to the old days, offering us a glimpse and tease, but not much more. I suspect Brad Bird was very involved in this teaser trailer, just as Christopher Nolan was very involved in the Interstellar teaser trailer. The Tomorrowland teaser trailer offers us a glimpse at the exciting premise, and I'm very eager to learn and see more.
They also revealed the first Tomorrowland poster, which you can see blow: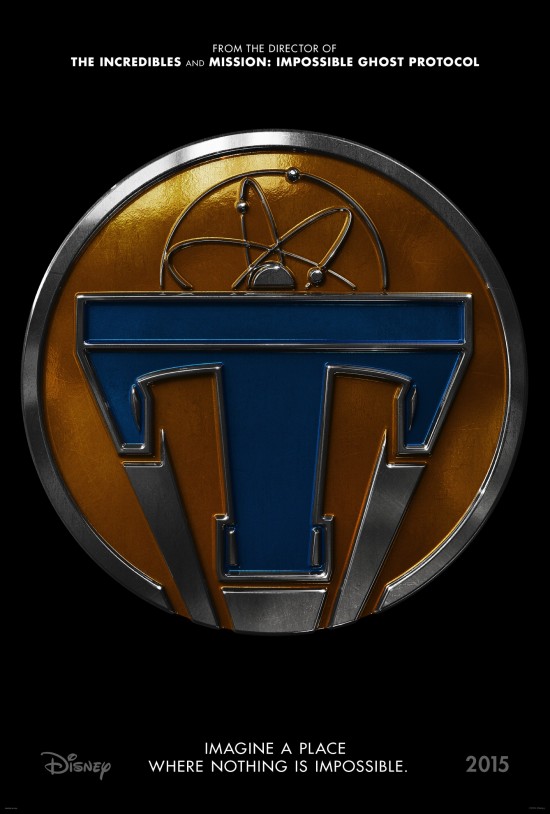 At New York Comic Con they were also giving out a preview card for the Tomorrowland prequel book Before Tomorrowland and replica of the Tomorrowland pin prop from the film:
Big Hero 6 and Tomorrowland swag given out at #NYCC pic.twitter.com/l1DBknBqgQ

— Inside the Magic (@InsideTheMagic) October 9, 2014
Also, here is a screenshot of George Clooney from Tomorrowland, just because: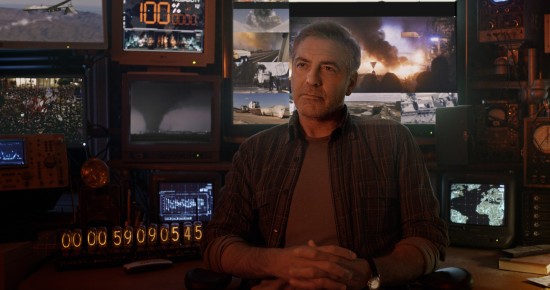 The film follows "a jaded scientist and an optimistic teen" who "embark on a danger-filled mission to unearth the secrets of an enigmatic place somewhere in time and space." Earlier this week, Walt Disney Pictures premiered the following three images in Entertainment Weekly: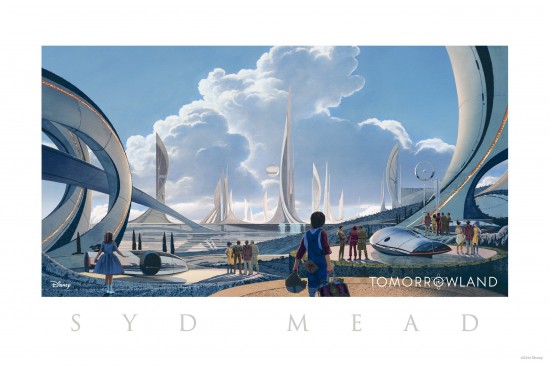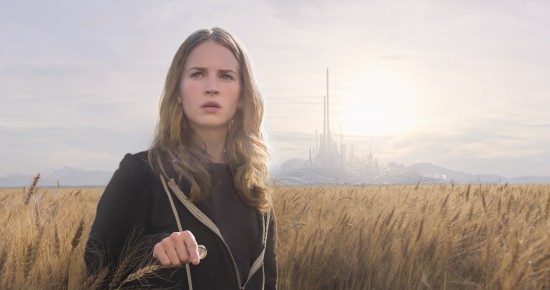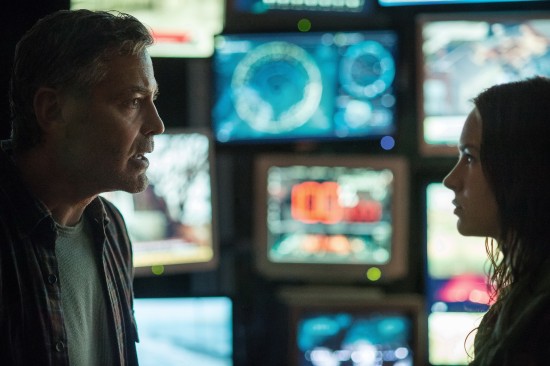 The official plot synopsis for Tomorrowland reads:
From Disney comes two-time Oscar® winner Brad Bird's riveting, mystery adventure "Tomorrowland," starring Academy Award® winner George Clooney. Bound by a shared destiny, former boy-genius Frank (Clooney), jaded by disillusionment, and Casey (Britt Robertson), a bright, optimistic teen bursting with scientific curiosity, embark on a danger-filled mission to unearth the secrets of an enigmatic place somewhere in time and space known only as "Tomorrowland." What they must do there changes the world—and them—forever.
The magazine article features a bunch of new information:
A quote from Brad Bird: "We begin our movie asking what did [the future] used to be? What's good about the future and what's scary about it? And we wrestle with those things in a slightly mythical way."
Britt Robertson plays a Florida girl named Casey Newton, an optimist in this dystopian world, "who dreams of the future while watching the launchpads of Cape Canaveral being disassembled." She "goes exploring one day and, after landing in a bit of trouble, finds herself in possession of a mysterious pin." When she touches this old-school lapel-style pin, she gets a vision of a more futuristic utopian place. The concept art above shows Casey as she is first seeing this other world. As you can see, the design aims for "true modernism, rather than the kind of retro-futurism some may be expecting." I love it, only wish it was somehow more inspired by the theme park land — which I'm sure it is and we'll discover in a short time.
A quote from Damon Lindelof: "What Hogwarts is to magic, Tomorrowland is to science: They are both easy to find if you are a wizard and very difficult to find if you're a Muggle. Walt Disney is not a character in our movie, but he is referenced as having some involvement in this mysterious place called Tomorrowland, as a huge futurist and aficionado of space travel, rocketry, cities of the future, and space travel." So Walt apparently visited Tomorrowland and used it as inspiration for his future theme park world.
George Clooney plays a  hermit and failed inventor named Frank Walker who "knows more about Tomorrowland than he wants to tell." He was a boy genius but has become a bitter old man, living in an old farm house away from all technology. So you can already see the story arc that Clooney's character will take on this adventure.
The movie is highly influenced by Steven Spielberg's Close Encounters of a Third Kind, which Lindelof describes as "a pure discovery movie", a "pure what-if", "Just that idea of what's going on here? What does this mean? That was a real jumping off place for a movie like this."
You can read the whole article on EW.com. Angie will be at New York Comic Con this week providing coverage of the Tomorrowland panel, so please check back!
The movie also stars Hugh Laurie, Raffey Cassidy, Tim McGraw, Judy Greer, Kathryn Hahn, Keegan-Michael Key and Thomas Robinson. Tomorrowland will hit theaters on May 22nd, 2015.