Sequel Bits: 'Independence Day 2', 'Bond 24', 'Bored To Death', 'Vacation', 'Star Trek 3'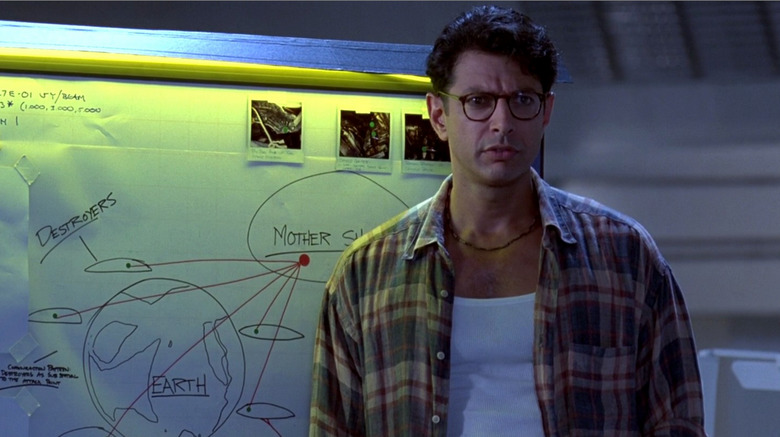 Today's Sequel Bits involves a bit of casting, a bit of un-casting, lots of movie star quotes and, best of all, Jeff Goldblum. After the jump:
Bill & Ted 3 is "closer, but no closer," says Keanu Reeves
Jason Schwartzman offers a Bored to Death update
Super Troopers 2 will definitely involve mustaches
Jeremy Renner continues to talk about Bourne
Karl Urban claims Star Trek 3 is "phenomenal"
There's a place for Jeff Goldblum in Independence Day 2
Chinese actress Zhang Jingchu boards Mission: Impossible 5
Ted 2 fires 7th Heaven actor Stephen Collins amid scandal
Ed Helms' Vacation sequel gets a fall 2015 release date
Bond 24 adds Rome to its list of awesome locations
HBO's Bored to Death movie is "sort of on hold right now," according Jason Schwartzman. He explained: "Jonathan Ames is writing the script, but he's also doing another show right now with Seth McFarlane." Meanwhile, Schwartzman is just eager to return. "[M]y dream is that I get a call tomorrow from HBO that is like, 'You're back! Rent a place in New York,'" he confessed. [CinemaBlend]
A lot about Super Troopers 2 remains up in the air, including whether or not it'll turn to Kickstarter for additional funding. But one thing you can count on is more sweet 'staches. "Everybody who had a mustache in the first one will grow it back," said Steve Lemme. "Now the guys who didn't grow mustaches for the first one want to have a mustache. We're making them earn it, not sure how we'll haze them, but they better be prepared." [Us Weekly]
Jeremy Renner continues to very patiently answer questions about the new Bourne. Here's his latest response: "We have our director [Justin Lin] who's actually run off to do the True Detective series right now, and then while that's happening they're finishing writing the script. I know [Paul] Greengrass and [Matt] Damon... well, I've heard have maybe cracked an idea, a reason to continue the Bourne series, which is fantastic." [MovieWeb]
Karl Urban is here to reassure you skeptics that Star Trek 3 will be awesome. "I'm am going to meet with J.J. [Abrams] in a couple of days and I'm looking forward to that. And the important thing is that it is going to be phenomenal," he told the Destination Star Trek crowd. "Based on what I hear of the concept, it's going to rock and you guys are going to love it." [Trek Movie]
Yes, Independence Day 2 is still brewing, and yes, Jeff Goldblum wants to be back. "I had a meeting and have been talking over the last several months or year with Roland Emmerich and Dean Devlin, the producer, and they've been cooking up and say they have a part for me in what they hope will be a plan to make another one pretty soon," revealed the actor. [Time]
Ethan Hunt is getting some more female company for Mission: Impossible 5. Chinese actress Zhang Jingchu (Rush Hour 3) has just been cast in a secretive but significant role that's reportedly "integral to a major plot twist." She joins Tom Cruise, Jeremy Renner, Simon Pegg, Alec Baldwin, Rebecca Ferguson, and Simon McBurney. Chris McQuarrie is directing the sequel now in the U.K. [Variety]
Here's a bit of unhappy news. Stephen Collins, best known as the pastor dad from 7th Heaven, has been fired from Seth MacFarlane's Ted 2 after allegedly admitting in a therapy session to molesting young girls. He is currently under investigation by the NYPD. Collins had only a small role in the comedy sequel, so his departure likely won't necessitate major rewrites. [EW]
Ed Helms will go on Vacation next fall. New Line has set the comedy rebootquel for an October 9, 2015 opening, pitting it against Disney's The Jungle Book. Helms plays Rusty Griswold, now all grown up and taking his own kids on their own trip from hell. Shooting began last month under first-time directors John Francis Daley and Jonathan Goldstein. Leslie Mann, Christina Applegate, and Chris Hemsworth also star. [THR]
Add Rome to the list of glamorous locales for Bond 24. An indie film called Voice From the Stone has been shooting in the Italian city, and whoever runs its Twitter account has revealed that their new neighbors at Cinecittà studios are none other than Bond 24. For an intelligence agency, I guess Bond's MI6 isn't so great at covering its tracks. Sam Mendes returns for Daniel Craig's fourth outing as the iconic spy.