Fox Wants A 'Simpsons Movie' Sequel But It's Not Happening Yet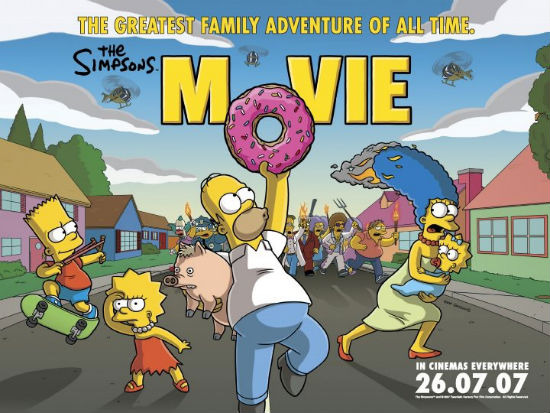 Nothing is as good as it was 25 years ago, but The Simpsons comes close. The longest running animated show in history may not have the cultural impact or consistent comedy impact it did in the 1990s, but in the past few years, it has expanded beyond mere television. Mobile games, mobile apps, marathons, concerts, The Simpsons is now more than a TV show. It's a way of life.
That uptick in cultural relevance has not gone unnoticed by the executives at 20th Century Fox. They've once again asked producers to do a sequel to 2007's The Simpsons Movie. But, like the producers said in 2007, 2013 (twice) and now in 2014, it's still not happening. Read producer James L. Brooks' thoughts on a Simpsons Movie sequel, as well as his take on the original film, below.
James L. Brooks spoke to the Hollywood Reporter about the long-desired film, and said the following when asked if there would be a sequel:
Perhaps [there will be another one]. We've been asked to [develop it], but we haven't. We're doing a lot of other stuff.
That other stuff includes the show itself, the FXX app, the recent Hollywood Bowl show and more. Plus, Brooks talked about how difficult the first movie was:
I don't know what it'd be like a second time. The first time it was, you know, we felt we were risking everything, risking everything about The Simpsons. What if the movie stunk and stuff like that. And I think it took us two years just to get loose. Just to breathe a little like we do on the show. And so it was a murderous two years until we got there. We had a script and then I was able to buy time for a while and then we had to agree to an exact deadline. It took us two years to try and act like we didn't give a shit, which the show needs a little bit. You know, the show needs that quality. The movie needed that quality.
While not revered like the TV show, The Simpsons Movie was a huge hit for Fox. According to Box Office Mojo, it cost $75 million to make and grossed $527 million worldwide. At this rate, if they ever make a sequel, it would have to be a momentous occasion. Maybe even the end of the show.
Do you think we'll ever see a Simpsons Movie sequel?