Watch: 'X-Men: Days Of Future Past' Deleted Scene Reveals Wolverine / Storm Romance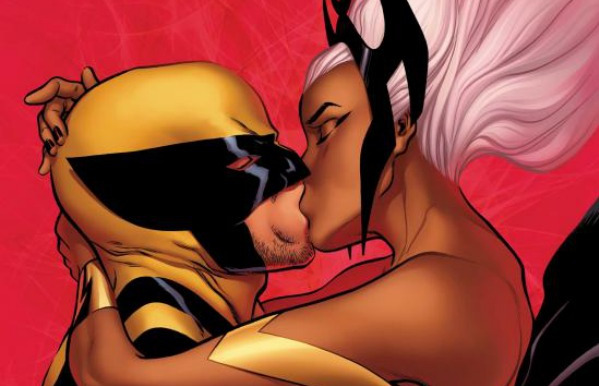 So much of Wolverine's storyline in the X-Men movies has revolved around his tortured love for Jean Grey. But a new X-Men: Days of Future Past deleted scene reveals he was supposed to finally move on in the last film. With longtime colleague Storm, of all people.
Hit the jump to watch the X-Men: Days of Future Past Wolverine Storm romance scene.
Yahoo revealed this shocking look at the Wolverine Storm romance that wasn't.
Not that it isn't fun watching two extremely attractive people make out, but it's probably for the best that this scene wound up on the cutting room floor. X-Men: Days of Future Past had enough going on as it is without mixing in a whole new romantic subplot.
Moreover, this just seems really abrupt and random. Wolverine and Storm have hooked up on and off since the '80s in the comics, but there hasn't been much sexual or romantic tension between them in the movies. Probably because he's been so busy crying over Jean. Plus, she seemed kind of into Nightcrawler that one time.
MoviePilot reports this scene was part of the blooper reel, so it may have just been shot as a joke, or perhaps as an Easter egg for fans in the know. If not, it's unclear why exactly the filmmakers decided to scrap the scene, or whether they have any plans to revisit a Wolverine Storm romance in the future.
Neither Hugh Jackman nor Halle Berry are confirmed for X-Men: Apocalypse at this point. He seems likelier to return than she does, given that the story follows the First Class gang in the '80s. Writer Simon Kinberg has hinted that Storm might appear in a younger form, meaning the role would have to be recast.
In other words, this is probably all we're gonna get from the Wolverine Storm ship. But hey, if you're really desperate to see the two going at it hot and heavy, there's always Swordfish.