'Say Anything' TV Series Dead Following Cameron Crowe's Objections [UPDATED]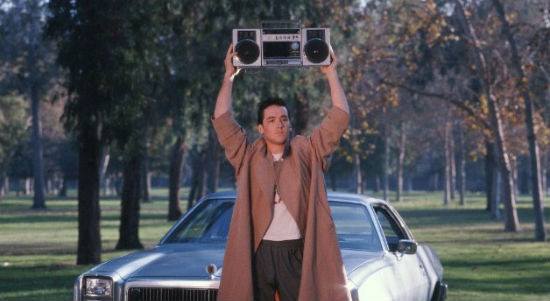 NBC's Say Anything... TV show may crash and burn before it even gets off the ground. Cameron Crowe, who directed the original 1989 movie, learned about the planned sequel series along with the rest of the world yesterday — and it seems he'd none too thrilled about it.
Legally, network NBC and producer 20th Century Fox TV are allowed to forge ahead without his approval. But a new report indicates they're unlikely to do so. Get all the latest details on the Say Anything... TV series after the jump.
UPDATE: The Say Anything... TV series is now officially dead, according to Deadline. Writer Justin Kaplan and producer Aaron Kaplan dropped out after hearing of Crowe's objections, and 20th Century Fox TV subsequently pulled the plug. Original story follows.
Regarding the announcement of a "Say Anything" tv show... @JohnCusack, @IoneSkye1 and I have no involvement... except in trying to stop it.

— Cameron Crowe (@CameronCrowe) October 7, 2014
Hell no !! "@readdreamwrite: .@johncusack Are you or @CameronCrowe involved with this series?http://t.co/CAIfVIR9L3"

— John Cusack (@johncusack) October 7, 2014
The trade now reports that the companies are "unlikely" to move forward over Crowe's objections. Interestingly, Crowe has actually discussed the possibility of doing a Say Anything... follow-up in the past. But the TV show would have been a whole other beast that didn't directly involve Crowe.
NBC's show would have picked up with Cusack's Lloyd Dobler and Skye's Diane Court ten years after events of the movie. The former teen lovebirds have long since broken up, but when Diane unexpectedly moves back into town Lloyd sees an opportunity to "dare to be great again," i.e., get her back.
Writer Justin Adler and producer Aaron Kaplan developed the Say Anything... TV series. The project fit right in with the current small-screen craze for retro properties, alongside new takes on Big, Problem Child, Real Genius, and The Greatest American Hero.
Meanwhile, those who are disappointed they won't get to see Crowe refitted for the small screen can take heart in the fact that he does have a TV show coming up. Crowe is teaming with J.J. Abrams for the Showtime pilot Roadies, about a rock tour as seen through the eyes of the crew.