'The Purge 3' Is A Go; James DeMonaco Will Write And Direct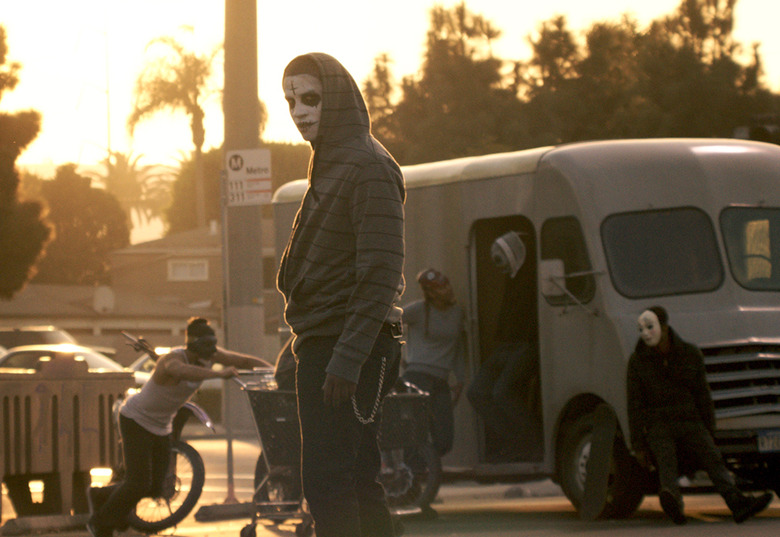 The first two Purge films cost $12 million combined and together they've grossed nearly $200 million. That's what you call "good business," so Universal and Blumhouse have made The Purge 3 official. This itself isn't a surprise. What is a bit of a surprise is the news saying James DeMonaco, the writer and director of the first two films, is returning to fill the same roles on the third movie. In an industry where directors can move from six digit budgets directly into nine digit budgets, it's awesome to see the same person continue on with a franchise. Read The Purge 3 news below.
Deadline broke The Purge 3 news, with details of DeMonaco returning. Here's his quote:
I never imagined that The Purge would become the phenomenon it has become and I am thrilled to continue my collaboration with Blumhouse, Sebastien Lemercier, Platinum Dunes and the great team at Universal in building The Purge into a worldwide franchise.
The Purge is a horror film set in the near future where everything is perfect. Everyone has jobs, there's no crime, but there's one catch. One night per year, there are no laws. Everything from murder and rape to common theft is legal for one evening so society get let off some steam. The first film showed that scenario confined to one house. While it became a hit, many fans were frustrated by that approach. They were let down that such a great idea was not explored fully. Earlier this year, The Purge Anarchy fulfilled the original promise by exploring the idea of The Purge on a larger canvas. Even though the film had triple the budget of the first, it was still super-gritty and focused, improving on the original in almost every way.
We don't know what the third film will entail, but since star Michael K. Williams said he expects to come back for the third film, that might offer a hint. In The Purge Anarchy, he played Carmelo Johns, a militant social activist who is against the Purge and the government. If he's back, you can imagine the story could start to show the higher levels of where The Purge was created.
There's no release date set for The Purge 3 but DeMonaco can turn around the films pretty quickly. I wouldn't be surprised if we saw it late next year.