POTD: J.J. Abrams' On-Set 'Star Wars Episode VII' Spoiler Poster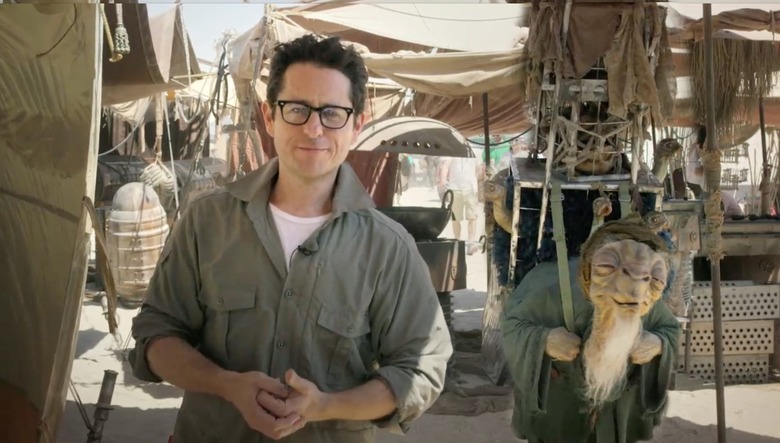 A new photo from the set of Star Wars Episode VII has been released. Well, more accurately, a pic has emerged from inside the production offices at Pinewood Studios outside London. It's the same image Kevin Smith described when he talked about his trip to the set; this time the actual image was posted by Frank Marshall, the film producer and husband of Kathleen Kennedy, the president of Lucasfilm. It's a Star Wars themed poster warning people who visit the set about what they can and can't say. See the Star Wars 7 poster here.
Here's the tweet from Marshall.
Excited to be here at Pinewood, but mum's the word... http://t.co/DjqT06zxm3

— Frank Marshall (@LeDoctor) October 6, 2014
And here's the Star Wars 7 poster itself, which is not something Abrams created. It's a piece of fan art by artist Cliff Chiang. You can check it out here.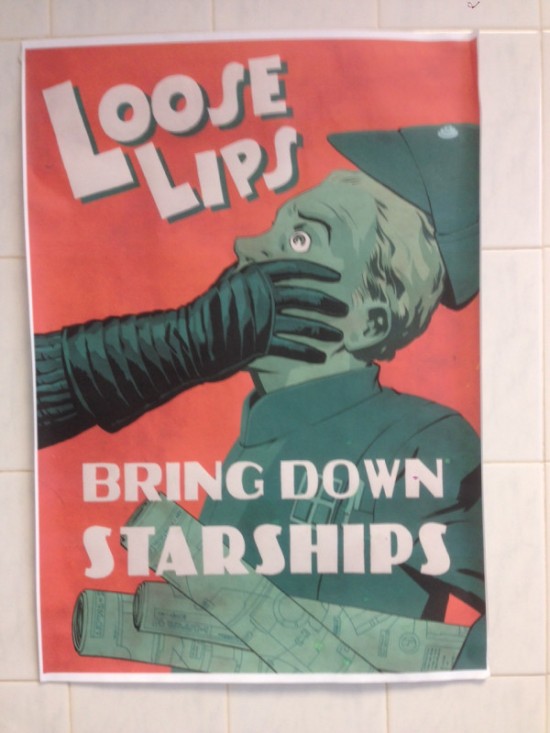 We heard about this video when Kevin Smith talked about his visit to the set. You can listen/watch here around 39 minutes, but this is the quote:
I get into the Lucasfilm office where you need to sign a non-disclosure agreement which says you're not gonna say what you saw. So I can't tell you exactly what I saw but we'll work around it. I sign that. There's a poster hanging on the wall right there. And it shows an Imperial Starship commander, in uniform, going like *this* [Mimics a finger to the mouth for the "shhhhh"] and it says "Loose lips sink starships." So they don't want you to talk about what you see. And I said, "This is awesome" and JJ's assistant goes "JJ hung that up for you." So I was like, "I got it I got it."
Obviously, Smith gets a few details wrong. The exact wording, the pose on the poster, but nevertheless, his statement coupled with Marshall's tweet pretty much confirm this is the same poster. I also love that the husband of the president of the studio is forced to sign the same NDA as just a random person visiting the set.
Star Wars Episode VII is set to finish filming in London very soon so, maybe, we'll learn more. But if we're to believe this poster, maybe not.