The Farrelly Brothers Will Be Mentors On New 'Project Greenlight'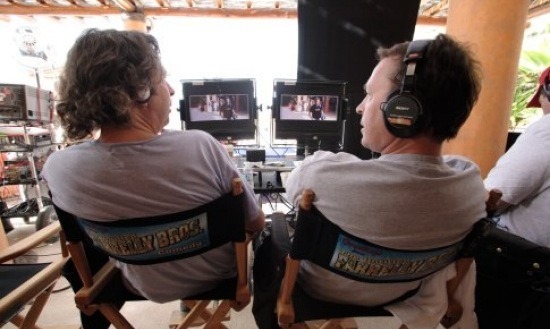 Matt Damon and Ben Affleck might have the action and drama covered when it comes to Project Greenlight, but now they've added some help with the comedy. Peter and Bobby Farrelly, the filmmakers behind Dumb and Dumber, There's Something About Mary and so many more, have been added to the upcoming HBO series, which recently selected its twelve finalists. The Farrellys will be part of the judging panel to select the winner then serve mentors to the eventual winner as he or she directs a movie on HBO. Read more of the Farrelly Brothers Project Greenlight news below.
Deadline broke the news of the addition. "Bobby and I are thrilled to be involved in Project Greenlight," Peter Farrelly told Deadline. "It's a great platform for emerging filmmakers and we love working with Matt and Ben."
Since the 20 semi-finalists were uploaded online (you can watch them all at this link), twelve finalists were selected. Here's the list:
Beanie Bros. – Adriano Valentini
Captain Torpedo – Julien Lasseur
Less Than One – Arturo Perez
Living With Jigsaw – Chris Capel
Magic Matty – Nico Raineau
Marriage Council – Sean Murphy
The Pavement – Taylor Engel
The Present Trauma – Mark Manalo
Where Do You Want to Eat? – Ashley Barnhill
Wicked Fast Forgiveness – Arrius and Ellesse Sorbonne
While this will be the first time the Farrellys appear on the show, they've been influenced by it in their own lives. Pete Jones, the winner of the first season of Project Greenlight, wrote the initial script for the Farrelly's 2011 film Hall Pass. And then Damon himself co-starred in their film, Stuck on You.
I'm extremely excited to see what happens with this series. It's been a long time favorite of mine and I believe the Farrelly's are a pretty smart addition. They know how to make a crowd-pleasing comedy hit and, even on their worst days, have been working in the Hollywood system for decades. Their experience is invaluable.