JK Rowling "Tweaking" 'Fantastic Beasts And Where To Find Them' Screenplay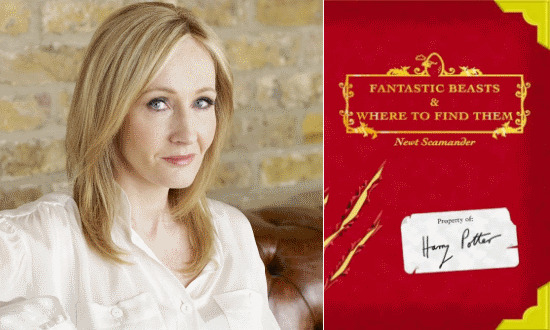 Every day, conversations in the film community gravitate to how DC, Marvel and Lucasfilm are working on huge, interconnected universes on the big screen. Innumerable other franchises are emulating this blueprint too, whether it be the Universal Monsters or Ghostbusters. But a similar franchise largely kept out of the conversation is Harry Potter.
In the next decade, we're going to get at least three new films in Potter's universe. The spin-off series, set years before Harry's story, is called Fantastic Beasts and Where to Find Them. J.K. Rowling herself is writing the screenplay and David Yates, who helmed the final four Potter films, is returning to the world of witchcraft and wizardry. Warner Bros. has set a release date of November 18, 2016 for the film and latest news on the series comes from the series creator herself.
Rowling took to Twitter to confirm she's now "tweaking" the Fantastic Beasts screenplay. Read her quotes and more on Fantastic Beasts and Where to Find Them below.
Here's the tweet from Rowling:
Very busy at the moment working on a novel, tweaking a screenplay and being involved in @lumos campaigns. Back when I've finished something!

— J.K. Rowling (@jk_rowling) October 5, 2014
After some quick interactions with fans, Rowling then posted this cryptic tease about...something.
Cry, foe! Run amok! Fa awry! My wand won't tolerate this nonsense.

— J.K. Rowling (@jk_rowling) October 6, 2014
Whatever that means.
UPDATE: She offered a clue:
#helpfulhint The solution is the first sentence of a synopsis of Newt's story. It isn't part of the script, but sets the scene.

— J.K. Rowling (@jk_rowling) October 7, 2014
Her tweaking the Fantastic Beasts screenplay, however, is right on schedule. Her director, Yates, is currently finishing principal photography on Tarzan, which stars Alexander Skarsgård, Margot Robbie, Samuel L. Jackson and Christoph Waltz. That film is scheduled for release July 1, 2016 which means two things. There's a lot of post-production to do on the film, and it'll be finished while Yates is simultaneously working on Fantastic Beasts. One would venture to guess if the screenplay is being finished now, filming on the latest Potter film will start in the Spring.
If you're confused about exactly what Fantastic Beasts is, here's a snippet from the original press release:
"Fantastic Beasts and Where to Find Them" will be an original story and will mark Rowling's screenwriting debut. It is planned as the first picture in a new film series. Set in the wizarding world, the story will feature magical creatures and characters, some of which will be familiar to devoted Harry Potter fans.
"Although it will be set in the worldwide community of witches and wizards where I was so happy for seventeen years, 'Fantastic Beasts and Where to Find Them' is neither a prequel nor a sequel to the Harry Potter series, but an extension of the wizarding world," said Rowling. "The laws and customs of the hidden magical society will be familiar to anyone who has read the Harry Potter books or seen the films, but Newt's story will start in New York, seventy years before Harry's gets underway." 
"We are incredibly honored that Jo has chosen to partner with Warner Bros. on this exciting new exploration of the world of wizardry which has been tremendously successful across all of our businesses," said Tsujihara. "She is an extraordinary writer, who ignited a reading revolution around the world, which then became an unprecedented film phenomenon. We know that audiences will be as excited as we are to see what her brilliant and boundless imagination conjures up for us."
In addition to the film series, "Fantastic Beasts" will also be developed across the Studio's video game, consumer products and digital initiatives businesses, including enhanced links with Pottermore.com, Rowling's digital online experience built around the Harry Potter stories.