Here Are All The Character Posters For 'The Hobbit: The Battle Of The Five Armies'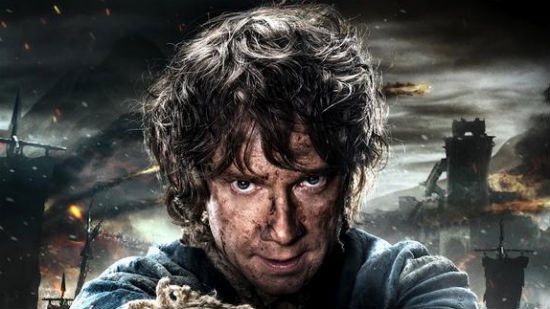 The third and final film in Peter Jackson's Hobbit trilogy, The Hobbit: The Battle of the Five Armies, is busting at the seams with characters. So it was inevitable that Warner Bros. would release an avalanche of posters for each and every one. They've finally finished.
Over the past few days, several new The Hobbit: The Battle of the Five Armies character posters have been revealed. They include Cate Blanchett as Galadriel, Orlando Bloom as Legolas, Luke Evans as Bard, Richard Armitage as Thorin, Evangeline Lilly as Tauriel and Lee Pace as Thranduil. And Tuesday, the final one was posted – a second one of Martin Freeman as Bilbo. See all of the Hobbit 3 character posters below.
Here's are the character posters for The Hobbit: The Battle of the Five Armies via Twitter.
Hobbit 3 Character Posters
Battle, destruction, these posters promise action upon action and massive consequences for the characters we've seen each Christmas for the past few years. I have pretty high hopes for this film, simply because I've been dying to know how Jackson and company link this trilogy with the superior Lord of the Rings trilogy. What will the bridge be? Will anyone else return?
It seems pretty likely the connective tissue between the trilogies will be the rise of Sauron from evil spirit the Necromancer into a giant eye overlooking the desolate lands of Mordor. That story alone will be fun to see unfold, along with the battle of the title, and so many more threads that have to get wrapped up in the highly anticipated film.
We'll update this post as more posters are released.
The Hobbit: The Battle of the Five Armies opens December 17. Directed by Peter Jackson, it has an insanely massive cast including Ian McKellen, Martin Freeman, Richard Armitage, Evangeline Lilly, Lee Pace, Luke Evans, Benedict Cumberbatch, Stephen Fry, Cate Blanchett, Ian Holm, Christopher Lee, Hugo Weaving, Ken Stott, James Nesbitt, Orlando Bloom, John Bell, Manu Bennett, Jed Brophy, Adam Brown, John Callen, Billy Connolly, Ryan Gage, Mark Hadlow, Peter Hambleton, Stephen Hunter, William Kircher, Lawrence Makoare, Sylvester McCoy, Graham McTavish, Dean O'Gorman, Mikael Persbrandt and Aidan Turner.