Focus Features Partners With Laika For Three More Films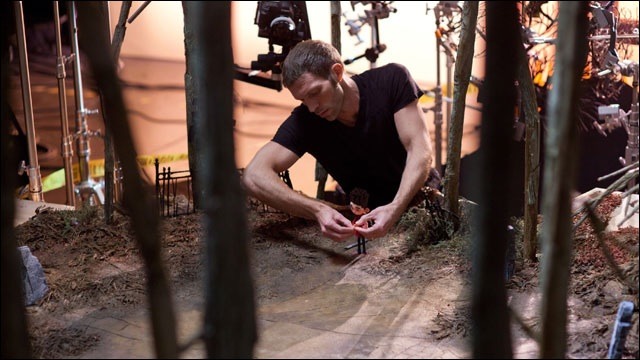 Released just over a week ago, The Boxtrolls had the best-ever opening for Laika, and going into this weekend had a global take sitting at $38m. Those are good numbers, and all the more remarkable because The Boxtrolls isn't a smooth and sanitized picture. Rather it is idiosyncratic and unusual, especially for today's animation landscape. Since Laika's films aren't cheap (this one is reportedly budgeted at around $60m) and take considerable time to create, it's good to know that the company has a partner going forward.
Focus Features and Universal have partnered with Laika in the past to release the studio's films domestically and abroad. And the companies have announced that they've signed a new three-film pact. That means that we'll see another trio of Laika films with the muscle of Focus and Universal behind them. More info follows.At this point, we don't know what any of those next three films will be. Laika is certainly working on something new, but has not revealed it to the public. There are two projects that have been in development, but we don't know where they stand: 
Wildwood, the YA novel from Colin Meloy (The Decemberists) and Carson Ellis that Laika picked up in fall 2011, about "Prue McKneel, a young lady who must confront a world filled with magic and danger after her younger brother is kidnapped, forcing her to enter the Impassable Wilderness."
Philip Reeve's novel Goblins, which has Mark Gustafson (Fantastic Mr. Fox) set as director, and which features a young Goblin named Scarper, who "understands that dark magic created by a vanquished sorcerer is rising again. From the lands of men come fortune-seekers – and trolls, giants, cloud-midens, boglins, swamp monsters, tree-warriors and bloodthirsty goblins are swept into a fabulous magical conflict."
Here's the press release with the details we do have.
HILLSBORO, OR, and SANTA MONICA, CA, October 3, 2014 – LAIKA and Focus Features, the two companies behind the hit animated feature The Boxtrolls, will continue their partnership on LAIKA's next three projects. Focus CEO Peter Schlessel and LAIKA President and CEO Travis Knight made the announcement today.As with the three movies that the companies have partnered on previously, Focus will distribute the next three movies domestically, and Universal Pictures International will release them overseas.Focus opened The Boxtrolls nationwide last weekend to a $17.3 million gross, marking the biggest debut yet for a LAIKA movie. The Boxtrolls follows the successful and acclaimed Focus and LAIKA animated films Coraline (2009) and ParaNorman (2012), each of which grossed over $100 million worldwide. Coraline earned Golden Globe, BAFTA, Critics' Choice, and Academy Award® nominations for Best Animated Feature Film; and was named one of the year's 10 Best Films by the American Film Institute (AFI) with an AFI Award. ParaNorman was cited as best animated feature film by more critics' groups than any other 2012 animated feature; and earned BAFTA, Critics' Choice, and Academy Award® nominations for Best Animated Feature Film.The Boxtrolls has also been released in 16 international territories to date, including the United Kingdom, where it was #1 at the box office for two weeks in a row; and Australia, where after just over two weeks it has already grossed more than either Coraline or ParaNorman did during their entire runs.Mr. Schlessel commented, "I am very pleased to continue our relationship with our friends at LAIKA. Travis and his company have elevated the art of animated films and we are proud to be part of their success.""Focus and LAIKA are kindred spirits," said Mr. Knight. "Over eight years and three films we've forged an incredible bond over a shared love for, and commitment to, bold, distinctive, and enduring stories. Peter and his superlative team have created a welcoming home for original voices and enriching, challenging filmmaking. They're the bravest studio in the world. We look forward to many ongoing cinematic adventures with our Focus/Universal family. The best is yet to come."