'Home Sweet Hell' Red-Band Trailer: Katherine Heigl Gets Bloody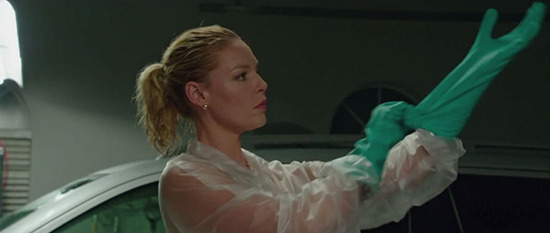 So Katherine Heigl and Patrick Wilson star in Home Sweet Hell, a vision of a very messy marriage. Wilson plays the former used-car salesman husband, and Heigl the woman who has smoothed him out over the years. But he's having an affair, with Jordana Brewster, and when she claims to be pregnant, Heigl's character responds with murderous intent. Heigl is actually in a sort of Lisa Kudrow mode here as she orders murder in the most peppy, up-beat manner. (Shades of Serial Mom come to mind, too.) This Home Sweet Hell red-band trailer is somewhat cute and not safe for work.
Home Sweet Hell Red-Band Trailer
Trailer via Yahoo. Home Sweet Hell doesn't have a release date at this point, but signs indicate a VOD or direct to disc release.
In this sexy dark-comedy, Don Champagne (Patrick Wilson) has a gorgeous house, beautiful children, a successful business and a domineering, misguided, delusional wife (Katherine Heigl). And when she learns of his seductive new hire Dusty (Jordana Brewster) she will stop at nothing to maintain order as chaos begins to seep into her perfect world and destroy everything she holds dear.