'X-Men: Apocalypse' To Focus On Mystique, Close Out 'First Class' Trilogy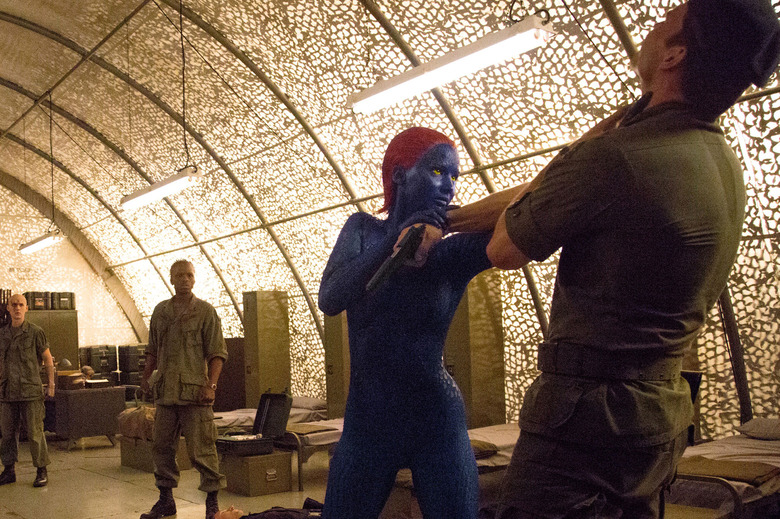 X-Men: First Class and X-Men: Days of Future Past were really the tales of Charles and Erik, two men who are almost as bad at being mortal enemies as they are at being BFFs. But according to Simon Kinberg, X-Men: Apocalypse could focus on a completely different X-relationship.
The screenwriter hinted that Jennifer Lawrence's Mystique could come front and center in the upcoming movie, which he says will close out the trilogy started by First Class. Beast (Nicholas Hoult) will have a strong role to play as well. Hit the jump for more on X-Men Apocalypse Mystique.
I will say that [X-Men: Apocalypse] is definitely the close of a trilogy for those First Class characters, which isn't to say we won't see them in future movies, hopefully we will, but it's a completion of an arc for them. I think that the friendship between Erik and Charles, which has always been so integral to the franchise, is something we're continuing to explore and hopefully deepen with Apocalypse. And the relationship between Beast and Mystique is a really interesting one that we didn't have a lot of time to explore in Days of Future Past, so we'll have an opportunity to do more of that in Apocalypse.
While Kinberg wouldn't outright confirm that X-Men: Apocalypse would center primarily around Mystique, he did explain to the site why he finds the character so intriguing.
Part of what's really interesting about Mystique's character is that she is, in some ways, the child of both Erik and Charles. She grew up with Charles and then she sort of became a woman with Erik, so her being the cross-pollination, if you will, of those two philosophies and those two men is something we can explore in the movie too.
And I'm sure the fact that she's played by an Oscar-winning, record-breaking, universally well liked A-list movie star doesn't hurt either.
X-Men: Apocalypse is dated for May 27, 2016. Bryan Singer will direct.