J.K. Simmons Explains That 'Terminator: Genisys' Is A Love Story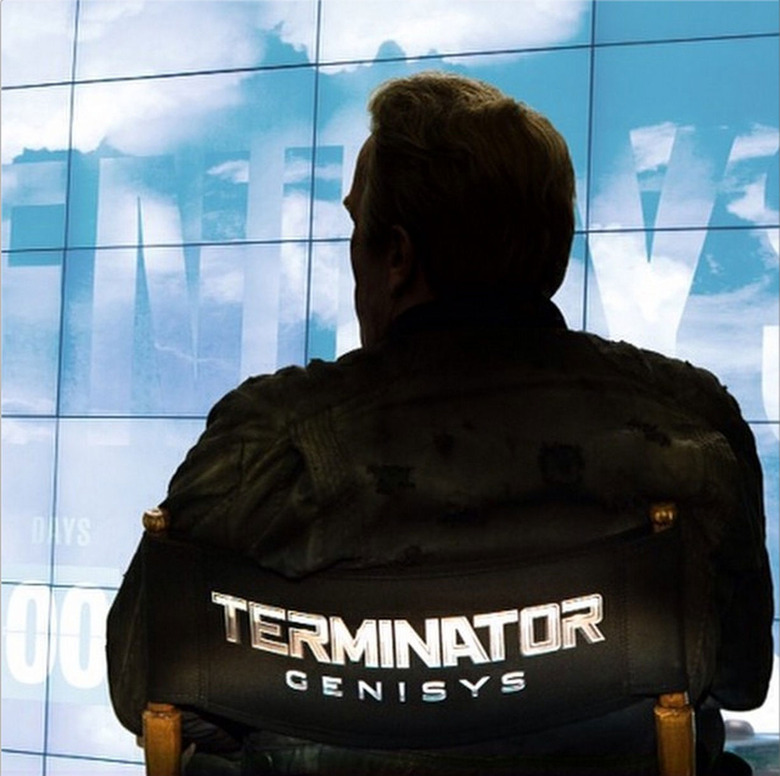 One of the best reasons to see the upcoming Terminator sequel/reboot Terminator: Genisys may be J.K. Simmons. The actor will blow your mind in Whiplash, and he's likely to be a great addition to the Terminator series as well. (Because, really, when is Simmons ever not welcome? He's entertaining even in the relatively woeful The Ladykillers.) Now Simmons is speaking up about Terminator: Genisys. He reveals something that probably won't be too surprising for anyone who has been following along with the sci-fi series: this reboot is a love story.
The info comes from ComingSoon, which spoke to J.K. Simmons about his role in Whiplash. The site also got him to talk about the new Terminator movie, about which the actor is very enthusiastic.
It's a gigantic movie and that was such a surprise when they sent that to me and asked me to do it. I thought 'Well, obviously it's a gigantic movie and on that level, it's something most actors would want to be a part of, but is it just going to be the formulaic yadda-yadda-yadda then cut to the stuff blowing up?' But I found the script to be really much more intelligent and fun and funny and well-rounded and heart-felt. It's a love story. It's a really interesting script. They got great actors. I wrapped that in August, so that was another movie that ended up being really satisfying on all levels. I have a much smaller part in that but it was really a fun thing to be a part of.
The film stars Emilia Clarke as Sarah Connor, Jason Clarke as John Connor, and Jai Courtney as Kyle Reese – the three points of a family triangle first outlined in James Cameron's original Terminator. That film was also a love story, if you want to look at it in a certain way, as Kyle Reese fell for Sarah Connor, the woman he was sent from the future to protect. Their son, John Connor became the leader of a resistance against domination by intelligent machines. 
As this film is a reboot of sorts of the whole series, we can expect that Reese and Connor will almost certainly be seen in some version of their romance, strange and time-swept as it may be.
And as it turns out, a lot of Simmons' work in the film is with returning star Arnold Schwarzenegger.
Yeah, most of my stuff was with Jai Courtney and Emilia Clarke and Arnold was very involved — or rather, I was involved in a fair amount of stuff with Arnold. I spent very little time actually with Jason Clarke, but yeah I got to work with all four of the leads of the film. From the table read on, I was just favorably impressed by everybody's work. Also everybody's attitude and what they brought to work with them every day and how there was no BS and diva tantrums. It was a good experience overall.
Terminator: Genisys opens on July 1, 2015. Alan Taylor directs from a scriptby Laeta Kalogridis and Patrick Lussier. Also in the cast are Dayo Okeniyi, Courtney B. Vance, Matt Smith, and Byung-hun Lee.