'The Mule' Trailer: A Great Look At A Blackly Comic Thriller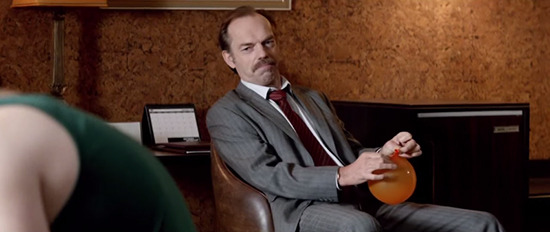 We've all seen or heard the story of a drug mule presented as dark drama or thriller. This Australian film The Mule takes a different approach, presenting the story of a man detained with drugs in his stomach as a very dark comedy. Nabbed by federal police in Australia upon a return from Thailand, a young man can only be detained for seven days... and so he decides to wait out the cops rather than reveal what's in his body.
In other words, this is a film about a guy trying to avoid going to the bathroom for seven days. Why? Because there are cops who want what might come out, and gangsters who really want what's in there. With Hugo Weaving as a particularly mean-spirited cop and a cast that also includes Leigh Whannell (Saw), Ewen Leslie, Geoff Morrell, Georgina Haig, Noni Hazlehurst and John Noble, this looks like a weird and funny film. Check out The Mule trailer below.
Tony Mahony and Angus Sampson make the leap to feature directing with The Mule.
Trailer via YouTube. There's no US release date for The Mule at this point, but XLrator Media has the U.S. rights to the film.
Inspired by true events, The Mule tells the story of a naive man who is detained by federal police with lethal narcotics hidden in his stomach. Alone and afraid, 'the Mule' makes a desperate choice; to defy his bodily functions and withhold the evidence... literally. By doing so he becomes a 'human time bomb'; dragging cops, criminals and concerned family into his impossible escapade.