Cool Stuff: "Otaku Obscura" - Joshua Budich's Show Of Anime Art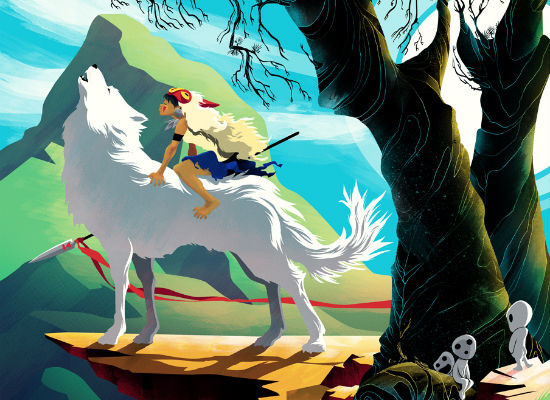 If you're in the continental US, it's hard to get closer to Japan than San Francisco. That makes the Bay City the perfect place for artist Joshua Budich's first solo show Otaku Obscura, a tribute to the art of Japanese animation. Opening October 4 at Spoke Art in San Francisco, Budich has created 28 brand new prints based on some of the most famous and popular anime of all time. Films like Akira, My Neighbor Totoro, Neon Genesis Evangelion, Ghost in the Shell, Princess Mononoke and Cowboy Bebop.
Below, we've got just some of the gorgeous pieces of Joshua Budich anime art that'll appear in the show including a /Film exclusive. Check them out below.
Joshua Budich's Otaku Obscura opens from 6-10 p.m. October 4 at Spoke Art, 816 Sutter St., San Francisco, CA. It'll then remain on display through October 24. Visit spoke-art.com for more info and anything that's not on sale will be available there October 6.
Here are a bunch of images from the show. If you mouse over each, it'll say the size, which varies. Everything is in a run of 100 though. The final image is a bunch of 6x6s.
Otaku Obscura - Joshua Budich Anime Art
The Akira print above has a glow in the dark variant, which we're proud to exclusively debut. Here's the light image, and what it looks like in the dark.
We asked Budich to tell us about the exhibit and here's his response:
When Spoke Art first approached me, over the summer, about a solo-show in October, we immediately started talking about anime. Serving my time in the print-making game, I've had many vast and varied opportunities to pay homage to quite a few things that have influenced me and my art. But, with this "bigger-stage" opportunity, I felt I needed to explore something a bit off the beaten path. Something that, up until now, I've only had a few opportunities to dabble in.
Growing up as an 80's kid, during what I would call the height of the Saturday morning cartoon-bonanza, it's only natural that I would become a huge cartoon junkie.... er, fan! I can quit whenever I want! But, looking back on it, there are several pivotal moments where Japanese-style animation blew my mind. Watching AKIRA for the first time (almost, 20 years ago now... geez!); perception altering. And, my recent, FIRST viewing of "My Neighbor Totoro" that I shared with our 6yo son. Sublime perfection!
The hyper-stylized, frenetic animation was like a bolt of inspirational lightning. Once I got a taste, my eyes were open to whole new world of characters and themes. No longer was I tethered to one narrow, psuedo-realistic approach to art. Anime has had a tremendous influence on my work.