'Dracula Untold' Now Fits Into The Universal Monsters Reboot Series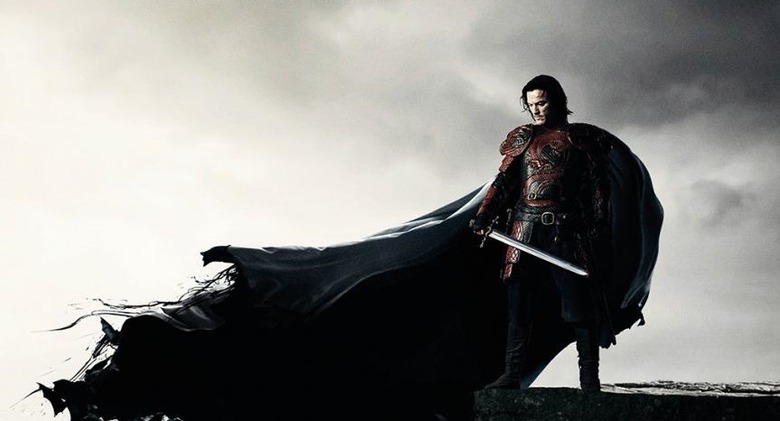 We know that Universal is putting together a new set of Universal Monsters movies, with Alex Kurtzman and Fast and Furious screenwriter Chris Morgan as architects of the franchise series reboot. The first movie out of the gate will be a new version of The Mummy, directed by Kurtzman. Before that plan was fully in place, however, Universal had Dracula Untold ready to go. The film opens on October 10, and early reports out of junket screenings indicate that the film has been tweaked to feature a possible connection to the upcoming set of monster films.
Badass Digest reports that reshoots provided some new footage that will link Dracula Untold to the upcoming Universal Monsters reboot. What does this footage entail? We don't have precise info, but Devin's tweet gives some detail:
The question is: why bother? There's little to suggest that Dracula Untold is particularly good, and this strange exploitation of the old character should be the endpoint to a directionless approach to the monsters, not the prologue to the new series. But these days, everything that can be connected will be, and so here we are.
As for the rest of the Universal Monsters series, we know only little. Here's what Universal has released about The Mummy:
A legend that has endured since the dawn of man is reborn in THE MUMMY, Universal Pictures' all-new epic action-adventure. THE MUMMY is conceived with dramatic intensity by an imaginative creative team led by director/producer Alex Kurtzman and producers Roberto Orci, Chris Morgan (Fast & Furious series, Wanted) and Sean Daniel (The Mummy trilogy, The Best Man series). Jon Spaihts (Prometheus) wrote the screenplay, and Bobby Cohen executive produces.
And we've heard that Fargo showrunner Noah Hawley is also writing one of the new Universal Monsters movies, but we don't know which.