'The Theory Of Everything' Trailer Starring Eddie Redmayne As Stephen Hawking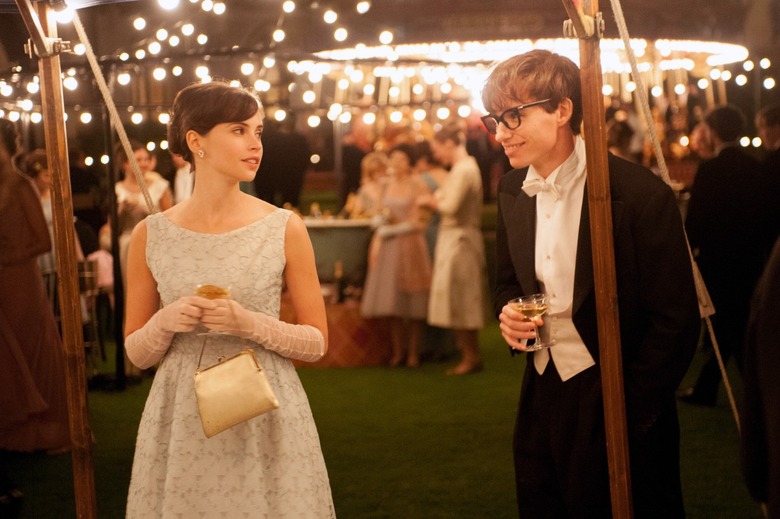 Following its enthusiastically received film festival debut, James Marsh's The Theory of Everything has revealed a gorgeous new trailer for general audiences. Eddie Redmayne stars Stephen Hawking, tracing his journey from spirited young student to modern-day icon, while Felicity Jones plays his girlfriend / eventual wife / even more eventual ex-wife Jane Wilde. Hit the jump to see the Theory of Everything trailer.
The Theory of Everything trailer makes it clear that the film is just as (if not more) with Hawking's personal relationships as it is with work. So while this looks like a big crowd-pleaser overall, those who are mostly interested in Hawking as a scientist may be disappointed.
Of the two leads, Hawking is the bigger name and the showier role, and the word out of TIFF was that The Theory of Everything could just be Redmayne's ticket to the 2015 Oscars. But Jones has the more difficult job in some ways, and by all accounts she manages to hold her own just the same.
The Theory of Everything rolls into theaters starting November 7.
Starring Eddie Redmayne ("Les Misérables") and Felicity Jones ("The Amazing Spider-Man 2"), this is the extraordinary story of one of the world's greatest living minds, the renowned astrophysicist Stephen Hawking, who falls deeply in love with fellow Cambridge student Jane Wilde. Once a healthy, active young man, Hawking received an earth-shattering diagnosis at 21 years of age. With Jane fighting tirelessly by his side, Stephen embarks on his most ambitious scientific work, studying the very thing he now has precious little of – time. Together, they defy impossible odds, breaking new ground in medicine and science, and achieving more than they could ever have dreamed. The film is based on the memoir Travelling to Infinity: My Life with Stephen, by Jane Hawking, and is directed by Academy Award winner James Marsh ("Man on Wire").