'Twilight' Will Live Again... As A Series Of Short Films On Facebook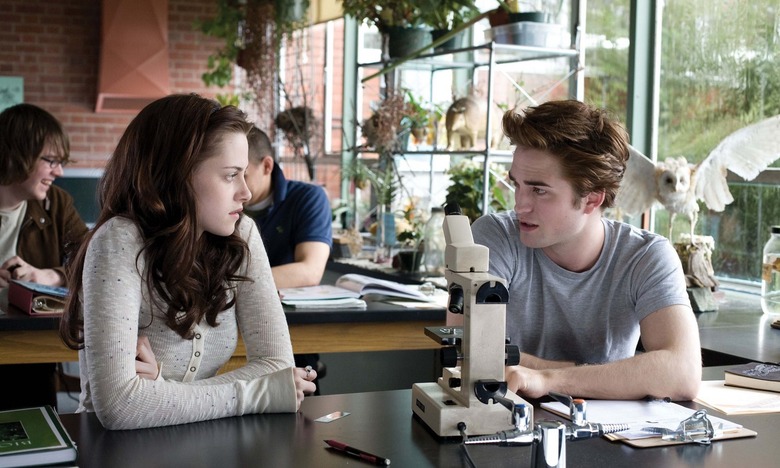 Given that the five Twilight movies raked in a collective $3.5 billion (adjusted for inflation) over five years, it was only a matter of time before Lionsgate tried to bring the franchise back from the dead. What's surprising is how they're doing it.
The studio will team with Twilight author Stephenie Meyer to select five aspiring female filmmakers to direct a series of shorts based on characters from the Twilight universe. The mini-movies will debut on Facebook next year. Hit the jump for more about the Twilight shorts.
The multi-step campaign will culminate in the selection of five female filmmakers. They'll be chosen and mentored by a panel of advisors including Meyer; actresses Kristen Stewart, Kate Winslet, Octavia Spencer, and Julie Bowen; directors Jennifer Lee and Catherine Hardwicke; and Women in Film president Cathy Schulman.
"The female voice is something that has become more and more important to me as I've worked in the film industry," said Meyer in a statement. In January, a widely circulated study found that only 16% of filmmakers (defined there as directors, exec producers, writers, cinematographers, and editors) behind the top 250 domestic grossers in 2013 were women.
All five Twlight shorts will be financed through production advances, and fans will be involved in the development and production process via Facebook and Tongal. In addition, fans will help decide on a grand prize winner to get cash and career opportunities. Despite Stewart's behind-the-scenes contribution, stars from the feature films are not expected to appear in the Twilight shorts.
Savvy studios have been serving up photos, clips, and trailers to hungry fans on Facebook for years, so these Twilight shorts seem like the next step up. The NYT suggests that the company could eventually distribute full-length features, though Facebook insists original exclusive content is not a priority right now.
In recent years we've seen studios resort to all sorts of tricks to try and hold on to their most lucrative franchises. Lionsgate's Twilight shorts seem like a fairly interesting approach, with the potential to lead to something bigger down the line. At the very least, it's more intriguing than the though of yet another spinoff, reboot, or companion tale stretched paper-thin into a whole new trilogy.