'Interstellar' Opening Three Days Early In IMAX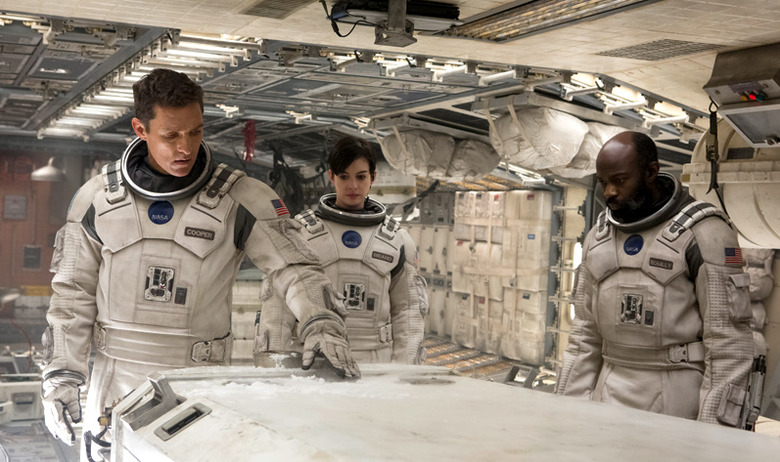 The only real way to see a Christopher Nolan movie is in IMAX. The filmmaker specifically makes his films for the large screen format, and with each subsequent movie he innovates in multiple ways. For his latest film, Interstellar, Nolan put IMAX cameras on planes to capture new footage. In the coming weeks, we'll surely hear more about his IMAX use. Film projection in IMAX is important to him, too, and the flagship location, the TCL Chinese Theater IMAX, is specifically putting in a film projector for Nolan's movie.
So we'll say again: the only real way to see a Christopher Nolan movie is in IMAX. And it turns out, you'll have a chance to do that a few days earlier than anywhere else. Multiple IMAX theaters are selling tickets to see the Interstellar IMAX experience on November 4, three days ahead of the wide November 7 opening.
First Showing spotted the tickets on sale. Inquiries to both Paramount and IMAX have not been returned as of publication.
In their piece, they only noticed that tickets were on sale at a few locations, specifically ones in California. MovieTickets.com has tickets at the AMC Universal City in Los Angeles and an IMAX in San Jose, CA, The Tech Museum of Innovation, is also selling. The TCL is not yet on sale nor is the big New York City IMAX, the AMC Lincoln Square.
Check your local IMAX to see if tickets are on sale as they are sure to go fast. And we'll update this post when we hear more official information from either the studio or theater chain.
Directed by Christopher Nolan, Interstellar stars Matthew McConaughey, Anne Hathaway, Jessica Chastain, Wes Bentley, Casey Affleck, Michael Caine and others. Here's the official synopsis:
With our time on Earth coming to an end, a team of explorers undertakes the most important mission in human history: traveling beyond this galaxy to discover whether mankind has a future among the stars.