Movie Theaters Refuse To Screen Netflix And IMAX's 'Crouching Tiger' Sequel [UPDATED]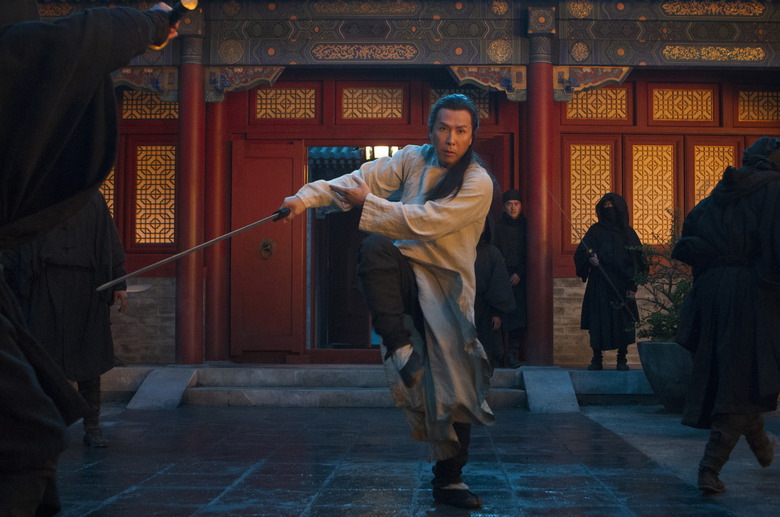 By premiering Crouching Tiger, Hidden Dragon: The Green Legend in IMAX and on Netflix on the same date, Netflix, IMAX, and The Weinstein Co. are disrupting the traditional theatrical release model. And not surprisingly, traditional theaters are none too happy about that.
Two of the biggest cinema chains in the country, Cinemark and Regal, have just announced that they will not be showing Crouching Tiger, Hidden Dragon: The Green Legend (or really any other day-and-date releases) in their IMAX theaters. Hit the jump for more details.
Update: Variety reports the U.S.' Carmike, Canada's Cineplex, and Europe's Cineworld have now joined Cinemark and Regal in refusing to show the movie.
"While a home video release may be simultaneously performing in certain IMAX locations, at Regal we will not participate in an experiment where you can see the same product on screens varying from three stories tall to 3-inch wide on a smart phone," said Regal spokesman Russ Nunley. "We believe the choice for truly enjoying a magnificent movie is clear."
Cinemark spokesman James Meredeith chimed in as well. "Cinemark does not play day-and-date movie releases on any of our screens including the IMAX screens that we operate," he said. Other theater chains have not disclosed their plans — though it's worth noting AMC has opted not to show day-and-date releases in the past.
Under the current model, new releases are shown exclusively in theaters for three months before they hit home video. The major cinema chains have strongly resisted any attempts to break that system, as with the Tower Heist boycott in 2011. Even so, day-and-date rollouts and early VOD debuts have become increasingly common for indie, foreign, and other specialty titles.
Technically, IMAX could conceivably force theaters to show Crouching Tiger, Hidden Dragon: The Green Legend by invoking certain contractual rights. However, IMAX is opting not to piss off theaters more than they already have. "We're not challenging windows," said IMAX CEO Rich Gelfond. "We're providing alternative content. [...] I personally am convinced a number of exhibitors will play it and view it as a constructive test to supplement their business."
Crouching Tiger, Hidden Dragon: The Green Legend seems like an ideal property for experiment. It's a known brand guaranteed to attract some attention, but it's also a modestly budgeted pic produced by an independent studio (TWC). Moreover, the companies have purposely chosen a weekend (August 28, 2015) that tends to be very slow anyway.
"As the world changes we have a duty to experiment with different things," he said. "We knew that not everybody would support it. However, we felt that the ability to provide alternative content at a time of year when there is not a lot of great product coming in from the studios helps both our exhibition partners and consumers."
And while Gelfond expects some American chains will play the movie, it's not really depending on the U.S. market anyway. Instead, it's got its eye on the international box office — particularly China, where Netflix does not operate.