'Inherent Vice' Trailer: Paul Thomas Anderson Gets Weird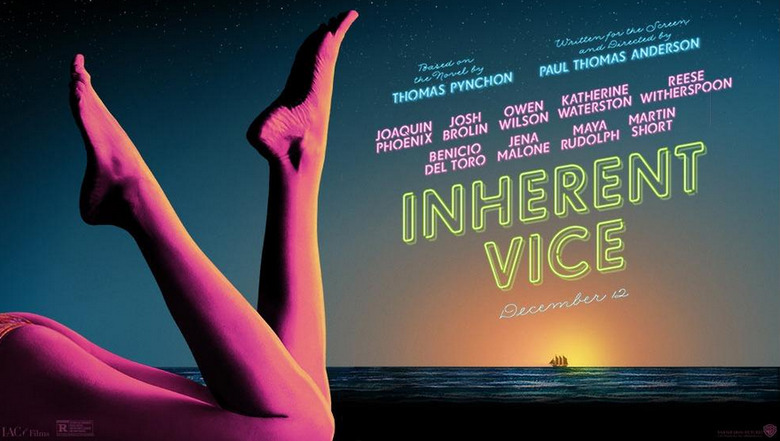 Here's the first trailer for Paul Thomas Anderson's new film Inherent Vice, which is based on the novel by Thomas Pynchon. This does a great job of setting up the basic story beats right at the outset in a manner that is funny and effective, and which aptly communicates the tone of the novel. And then it gets a little goofy.
And that's great, because Inherent Vice should be a little bit goofy, and a bit weird, and downright unpredictable. Those who've read the novel will spot many little flourishes and visions in this trailer that suggest that PTA has at least hewn close to the spirit of the book. And for those who haven't read the novel, we won't yet give away all the meanings behind the bits of this Inherent Vice trailer. Just sit back and enjoy it.
We've talked before about how the film could well end up having a Long Goodbye/The Big Lebowski vibe, and that's all very much on display in this trailer. As you'd expect from PTA, the cast appears to be quite well chosen, and Joaquin Phoenix... damn. He appears to be spot-on, a perfect bridge between the sensibilities of Anderson and Pynchon.
Even the pacing of the trailer gets some of the zany, off-kilter vibe of Pynchon's work, and the footage is so lovely. That's musician Joanna Newsom narrating, by the way. She's one of the interesting additions to go along with the tweaked plot elements and ending that Anderson crafted for the film.
Apple has the trailer. Inherent Vice opens limited on December 12, then will expand wide on January 9, 2015. Before all that, however, the film will have an October 4 premiere at the New York Film Festival.
"Inherent Vice" is the seventh feature from Paul Thomas Anderson and the first film adaption of a Thomas Pynchon novel. When P.I. Doc Sportello's ex-old lady shows up with a story about her current billionaire land developer boyfriend and a plot by his wife and her boyfriend to kidnap that billionaire and throw him in a looney bin... well, easy for her to say. It's the tail end of the `60s, paranoia is running the day and Doc knows that "love" is one of those words going around, like "trip" or "groovy," that's way too overused–except this one usually leads to trouble. With a cast of characters that includes surfers, hustlers, dopers and rockers, a murderous loan shark, LAPD Detectives, a tenor sax player working undercover and a mysterious entity known as the Golden Fang, which may only be a tax dodge set up by some dentists... Part surf noir, part psychedelic romp–all Thomas Pynchon.