Why Did 'Star Wars Episode 7' Stars John Boyega And Daisy Ridley Suddenly Leave Twitter?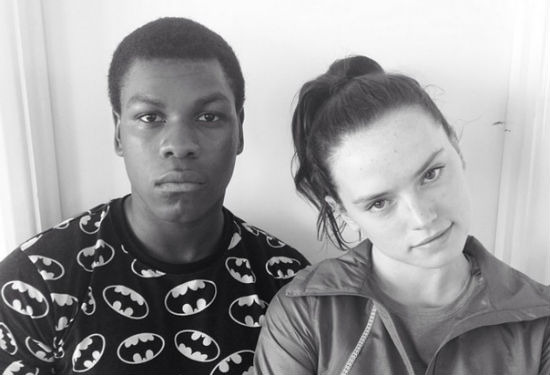 Either J.J. Abrams has just raised his mystery box tactics to a whole new level, or people are terrible. You decide.
For the past five months, Abrams has been all over the world filming Star Wars Episode VII with a near-unprecedented level of curiosity surrounding the production. Paparazzi have been clamoring for set photos. Images of the actors simply walking on the streets are news. Recently, drones captured set images Abrams was surely not happy to see. That's not even counting the online leaks about plot points, characters and more.
The whole time, the two safest and most exciting sources of Star Wars news were Daisy Ridley and John Boyega. The young actors, likely the two leads of the film, had been carefully documenting the process on social media. Both loved to tweet their thoughts about the process, posting funny videos and photos on Instagram, all the while never revealing anything.
The most we knew about Boyega's character was the actor listened to lots of great Hollywood scores to get pumped for his scenes. Ridley revealed even less, mostly that she was spending a lot of time with Boyega and was genuinely ecstatic about the whole process. All in all, the two exuded passion that was infectious and harmless. If anything, it was helping get fans even more excited for the film.
Then, over the past few days, both accounts disappeared. Boyega's Instagram remains (as of press time) and a Lucasfilm representative told /Film they were just as surprised as we were to see the accounts gone. That leads us to ask the question, why did John Boyega and Daisy Ridley leave Twitter?
Let's start with the conspiracy theory stuff. Put yourself in J.J. Abrams' shoes. You have two young actors, both of whom are very skilled at social media, checking their Twitter accounts between takes and when they go home. Though they've each signed their lives away promising they won't reveal anything, that doesn't stop people from asking. And asking. And maybe even threatening. How many questions do you think Boyega or Ridley got a day about their roles? About what they were shooting? Plus, knowing the Internet, there was almost certainly some hate in there too.
Non-disclosure agreement or not, that's gotta be tough to deal with. You want to scream through your phone at the dumb people and tell them to screw off. And you want to geek out with the fans, passing along info and assuring them the movie is going to be great. But you can't do either. By deleting your Twitter account, any potential to mess that up and say the wrong thing is gone. It also stops the public's ability to directly spew hate.
So maybe Abrams was just covering his ass, and protecting his young stars. But after five months, it seems like Boyega and Ridley had built up some trust. It's those pesky day players he can't trust; they're the ones who kept leaking photos.
The next question is to look at what the latest thing each actor tweeted. Ridley's account disappeared after a nice goodbye, but Boyega's still lives on in spirit because of his Instagram. His last two tweet were photos, one of an IMAX camera filming Episode VII and another saying he was doing a voice in a cartoon. If he'd posted that IMAX camera without permission, this wouldn't be a mystery, but Bad Robot tweeted that photo itself a few months back. The cartoon is a bit more curious. Obviously, your first thought is that it's for Star Wars Rebels but that doesn't make sense. Boyega's Episode VII character wouldn't be born before Episode IV. Plus, even if he was in Rebels, it would be a big spoiler and isn't something he'd post. He's been extra careful about stuff like that.
Then again, the timing of Boyega's deletion juxtaposed with the tweet makes us wonder if it was something Star Wars related and this was the result.
Basically, there are lots of different reasons why Boyega and Ridley might now be off Twitter. Maybe it was J.J. Abrams shutting them down for making a mistake. Maybe it was just a preemptive strike because Abrams is simply that worried about any information getting out about the film. It's possible. My personal guess, though? Ridley deleted her account first and, according to some Twitter followers, it may have been because of hateful tweets she was getting. If that's the case, you can't blame her. And since she and Boyega have become such good friends, maybe he did the same out of solidarity.
That makes sense to me. That it's the Internet, and not J.J. Abrams, whose fault is is we can't have Boyega and Ridley's passion for Star Wars and life in our Twitter feeds. In the world we live in, J.J. Abrams' mystery box sucks, but haters suck more.
Why do you think Boyega and Ridley left Twitter?